Michael Giacchino To Direct Feature Film Reimagining Of 1954's Them!
Did you watch Werewolf By Night on Disney+ in October and think to yourself that Michael Giacchino directed the hell out of that short, and someone should let him make a feature horror movie immediately? It seems that someone over at Warner Bros. certainly was. Giacchino is an Oscar-winning composer and has probably composed some of your favorite movie music, but with the Marvel short, he proved that he could be a real force to be reckoned with behind the camera. It appears Disney was a little slow, and Warner Bros. to him first. According to Deadline, Giacchino is working on a reimagining of the 1954 classic Them! and is set to make his feature-length debut with the production.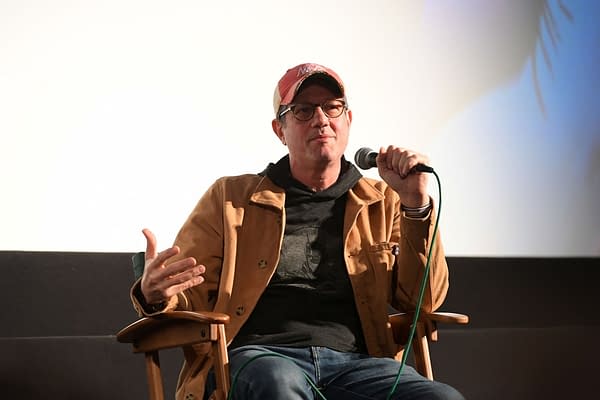 Will This Version Of Them! Be In Black-And-White Too? Hope So
Them! is a black-and-white science fiction monster movie and is one of the first "nuclear monster" movies and one of the first "big bug" movies that used insects as the monsters. It is about a nest of gigantic irradiated ants in the New Mexico desert and how they will become a threat to the entire country. The film was directed by Gordon Douglas and starred James Whitmore, Edmund Gwenn, Joan Weldon, and James Arness. It was released on June 18, 1954, and is often cited as one o the best science fiction films of the 1950s.
"There's always a movie in your mind that never leaves your head," Giacchino tells Deadline, "For me, that's Them! It wasn't until much later in life until I learned what it was about — the nuclear age. … What I love about Them! is exactly what it's called: Them!. It's about the other, the unknown which one refuses or can't understand."
"The current version of Them! is about immigration, and to tell a story about the subject through a lens of this insane science fiction monster movie," teases Giacchino about what his early vision is for the pic.
"Michael Giacchino is a unique talent. We're excited to be working with him and have him at the studio," said Warner Bros Pictures President of Production and Development Jesse Ehrman, who is overseeing the project on the Burbank, CA lot. According to Deadline, Ehrman saw Werewolf By Night and was "blown away," which is the correct reaction to that short. Giacchino has said that his filmmaking brother Anthony Giacchino will be involved with the production of Them! as well and won an Oscar for his short subject document, Colette.