We're still in shock really about how good Godzilla: King of the Monsters looks. From the first trailer during San Diego Comic Con in 2017 to the latest image shared by director Mike Dougherty, each glimpse of whats to come has us more excited.
Today, it was a brand new image of King Ghidorah posted by Dougherty, featuring what looks like some kind of jet (obviously) possibly either doing research, or maybe even mounting an attack against the three-headed titan: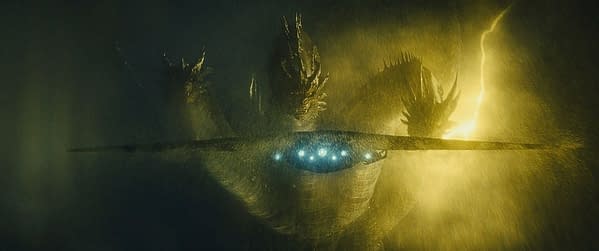 "And upon his heads the name of blasphemy…" #GodzillaMovie pic.twitter.com/6wqZAg0tOa

— Mike Dougherty (@Mike_Dougherty) January 3, 2019
This film will feature three Titans other than Godzilla- Mothra, Rodan, and King Ghidorah. There is every likelihood we may get teases of additional giant monsters, especially considering that production on the next film in Legendary Pictures' kaiju series Godzilla Vs. Kong has already begun.
Godzilla: King of the Monsters is set to hit theaters on May 31st, 2019.
Enjoyed this article? Share it!