There are a lot of big Disney remakes coming out next year. Thus far the reactions to all of them have been pretty mixed overall with plenty of people asking what the point of all of this is. They aren't wrong but that doesn't stop that little voice in the back of your head getting really excited to see Pride Rock again. The one with probably the most interesting reaction has been the live-action remake of Aladdin which dropped some more first-looks last month after a very brief teaser earlier last year. People aren't quite sure what to make of this one while others, like this writer, think it looks like a Bollywood movie and that's kind of awesome. One of the ways that Bollywood look is the most obvious is the outfits we see on Naomi Scott as Jasmine. USA Today shared a new picture of those costumes, which we can expect to see on the convention circuit sooner than later even if this movie doesn't do well, and Scott spoke about the relationship between Jasmine and Aladdin.
"They're the perfect partnership because they both need each other and teach each other."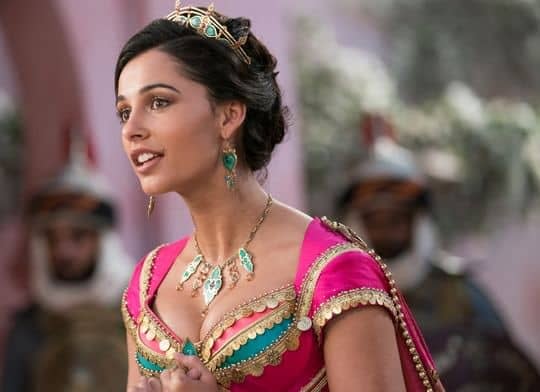 Scott also went on to talk about how this version of Jasmine is even more conscientious of the world around her and spends a good amount of this movie learning to "find her voice" for the people of Agrabah.
"She gradually finds the courage to speak out against injustice and that's kind of her objective from the start of the movie: 'I see these people, I love them.' "
It's still a bit too early to make a call on this movie one way or another, the Disney remakes have been very hit or miss thus far, but if nothing else this one looks very different when it comes to its visuals and costumes. That is going to make it something to keep an eye on.
Summary: A live-action retelling of the 1992 Disney film of the same name.
Aladdin, directed by Guy Ritchie, stars Mena Massoud, Naomi Scott, Will Smith, Marwan Kenzari, and Numan Acar. It will be released on May 24th, 2019.
Enjoyed this article? Share it!