There are a couple of unknowns when it comes to big movies this summer. No one is really sure whether or not they are going to be able to find a place in such a busy blockbuster season. One of those unknowns is absolutely Men in Black: Internstional. The series hasn't had a great entry since the first one and everyone sort of forgot about the second and third the moment they happened. Now this franchise is looking to return this summer and Total Film got a new image and spoke to stars Tessa Thompson and Chris Hemsworth.
"My character's a little unhinged and a little nutty," he laughs. "He certainly has a style and a way of doing things that's pretty unorthodox and not really by the book. And he sort of gets away with it because he gets results…"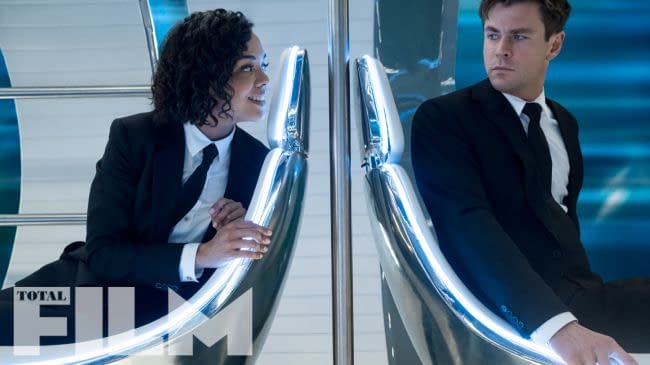 Thompson went on to talk about her character has never felt at home and the insane world of the Men in Black feels more real to her.
"She's someone that, for whatever reason, has felt like she doesn't belong, and she had an experience as a young child that makes her interested in this organisation," Thompson says of Agent H. "So inside this world that's sort of zany and doesn't always reflect ours, you feel like you understand who this woman is."
June is a packed month as far as movies go so Men in Black: International is going to have to work extra hard to get people in the theater. Some good buzz from fans or critics would be helpful. This might be a movie that could benefit from an early preview screening or two before its wide release.
Summary: The Men in Black have always protected the Earth from the scum of the universe. In this new adventure, they tackle their biggest threat to date: a mole in the Men in Black organization.
Men in Black: International, directed by F. Gary Gray, stars Chris Hemsworth, Tessa Thompson, Rebecca Ferguson, Liam Neeson, Emma Thompson, and Kumail Nanjiani. It will be released on June 14, 2019.
Enjoyed this article? Share it!