New Picture of Arnold Schwarzenegger in "Terminator: Dark Fate"
There are several big "unknowns" coming out in the fall the big one is probably going to be Terminator: Dark Fate. There arguably hasn't been a good Terminator movie since the second one and the chances of this being another swing and miss are pretty good. We shall never forget that James Cameron said he liked Terminator Genisys. That being said Cameron is once again involved and he got a good director, Tim Miller, behind the camera so maybe this one will work out. Total Film got their hands on a new image of Arnold Schwarzenegger and spoke to Miller about how this Terminator is different from ones that we've seen in previous movies.
"He looks different, and he is different," director Tim Miller says of Arnie's Terminator. "It's an interesting way to portray him. He's just so iconic, but it's something we haven't seen in any of the other films. I personally think that he looks the best since Terminator 2."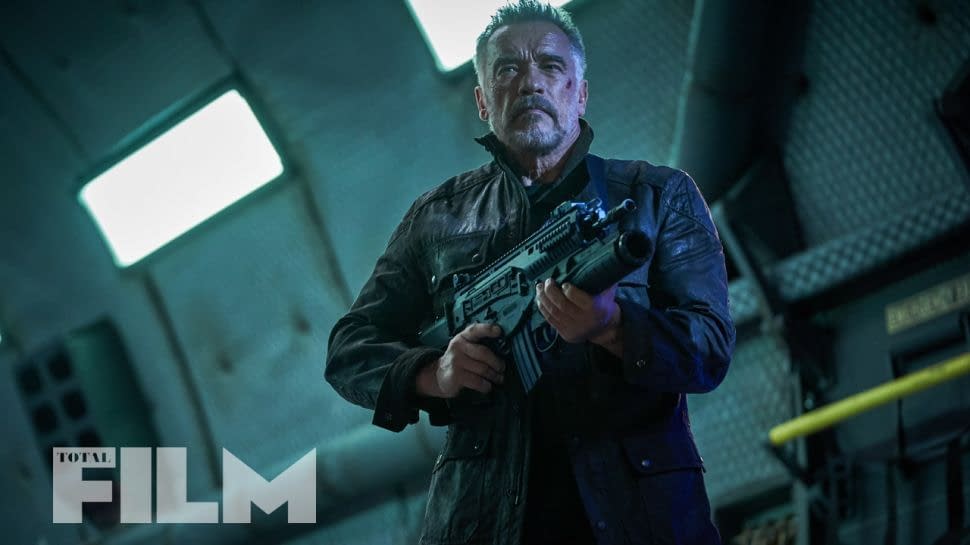 This is also the first time we've had Linda Hamilton back in the series and she talked about how powerful it was to be back in costume.
"The first time back in costume was powerful," Hamilton says of returning as her Connor. "I walked out of the trailer and it knocked the breath out of everybody. When I saw the look on everyone else's face, I was like, 'Alright, I think I can do this!'"
Whether or not this movie ends up any good is still very much up in the air but considering how full the November and December release schedules are it'll have to be to find an audience. We know that people will go see R-rated movies if they are good but if this one fails to hit the mark that R-rating is going to make it even harder for it to make back its budget.
Summary: Sarah Connor has returned from far away, and she's gearing up with a team of agents who will fight against T-1000.
Terminator: Dark Fate, directed by Tim Miller, stars Linda Hamilton, Arnold Schwarzenegger, Mackenzie Davis, Natalia Reyes, Gabriel Luna, and Diego Boneta. It will be released on November 1st.