Margot Robbie Signed to David O. Russell Film for New Regency, Christian Bale Co-Starring
When the names of Margot Robbie and Christian Bale appear together, what initially comes to mind? Maybe a dream confrontation between Harley Quinn and Dark Knight Batman? Nope, it's for the new David O. Russell film for New Regency.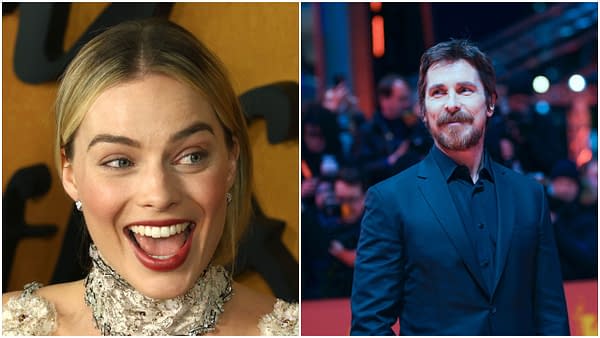 Deadline Hollywood did not reveal much as far as details. IMDb lists the title as Amsterdam. Twentieth Century Studios did not reveal any plot details other than the story based on Russell's original idea. Matthew Budman serves as producer.
Rise of Two Careers
Robbie had a busy 2019 starring in the acclaimed Once Upon a Time in Hollywood for Sony and equally praised Bombshell for Lionsgate. The latter snagged herself a Best Supporting Actress nomination at the 2020 Oscars. She stars in Warner Bros Birds of Prey since renamed Harley Quinn: Birds of Prey is currently in theaters. She's currently filming James Gunn's The Suicide Squad for WB. The 29-year old actress is obviously a fan of Bale's work with her Vogue ad spoofing his beauty regiment routine from American Psycho (2000). Here's a link to compare the scenes.
Bale's coming off two-Oscar nominated films in Ford v Ferrari (2019) and Vice (2018). The 46-year old is in talks to join Marvel for Taika Waititi's Thor: Love and Thunder after spending seven years as Christopher Nolan's Batman in The Dark Knight trilogy.
Russell directed Bale in numerous successful films like American Hustle (2013) and The Fighter (2010). The latter won Bale an Oscar for Best Supporting Actor. Melissa Leo won for Best Supporting Actress for the same film.
Russell also bolstered the careers of those like Jennifer Lawrence and Bradley Cooper. Lawrence won Best Leading Actress Silver Linings Playbook (2012). Cooper scored a nomination for Best Leading Actor for the same film. Lawrence received another Best Actress nod for her performance in Joy (2016).
It won't be surprising if Russell taps more into his all-star favorites like Cooper, Lawrence, Mark Wahlberg or Robert De Niro.