[rwp-review-recap id="0"]
Ocean's 8 has perfectly captured what made the George Clooney era of movies so good with a fantastic cast, a great sense of style, and a twist that will leave you grinning.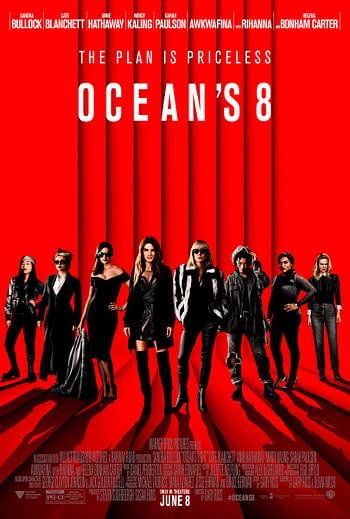 Director: Gary Ross
Summary: Debbie Ocean gathers an all-female crew to attempt an impossible heist at New York City's yearly Met Gala.
When it was first announced that there would be a female-focused Ocean's movie, many people rolled their eyes. Did we really need that? Then the cast list was announced that included Sandra Bullock, Cate Blanchett, Anne Hathaway, and Mindy Kaling, and people were a little less apprehensive. Then we saw the trailer, and those of us who are suckers for costumes got distracted by the fantastic dresses, and people got excited. But a good heist movie cannot get by with good characters or good performances alone; the heist itself needs to be a ton of fun to watch, and Ocean's 8 absolutely delivers.
We're not going to get too much into the actual heist because that is a spoiler, but rest assured that this is one of the good ones.
We have Sandra Bullock absolutely killing it as Debbie Ocean, and her right-hand woman is Cate Blanchett as Lou. The best thing this movie does is that it doesn't try to replicate the chemistry between Clooney and Brad Pitt in the first trilogy of movies. Anne Hathaway is clearly having a ball playing what is obviously a parody of what people think she must be like as an actress. Rihanna and her fantastic dreadlocks absolutely manages to hold her own against a bunch of award winners. Helena Bonham Carter, Mindy Kaling, and Sarah Paulson are all fantastic in their respective roles. Relative newcomer Awkwafina has real screen presence and great comedic timing. She's a movie star in the making.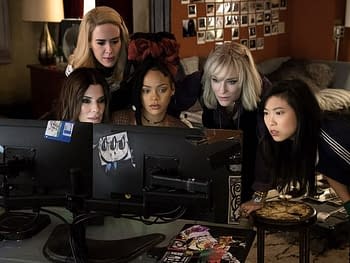 This is a movie about robbing the Meta Gala, which means we get to see the Met Gala in all of its glory. While the outfits aren't quite as crazy as the real Gala can get, this movie is still a costume designer's dream. The pink dress and cape that Hathaway's character wears to the Met Gala is absolutely stunning and worth the price of admission alone. There are plenty of little details and fun callbacks to the Clooney era, but they aren't too obnoxious or distract from the movie at hand — even if it does feel a little long at times. The chemistry between all of these characters and what they accomplish is the thing that could bring people back for another trilogy.
Ocean's 8 captures what made the Ocean's 11 movies so much fun and perfectly pulls off an epic heist combined with great characters and performances from all involved.
[rwp-review-ratings id="0"]
[rwp-review-form id="0"]
Enjoyed this article? Share it!