'Sax Man' From 'The Lost Boys' Bottleneck Gallery Print is Amazing
The Lost Boys is not just one of the best horror movies ever made, it is one of the most iconic films of the 80's. Arguably the best scene in the film is towards the beginning, when the characters attend a gathering for a concert at the beach, and the iconic 'Sax Man' is seen gyrating and playing the sickest sax beat you will ever hear:
Now the Sax Man (played by Tim Cappello in the film) is being immortalized as a new art print for Bottleneck Gallery by John Keaveney. The print will run you $40 and is limited to 75 copies. They also still have their replica Lost Boys comics complete with 3D glasses on sale as well. (UPDATE: this print has since sold out, but you never know, it could come back!) You can order one for yourself here, and check out details below.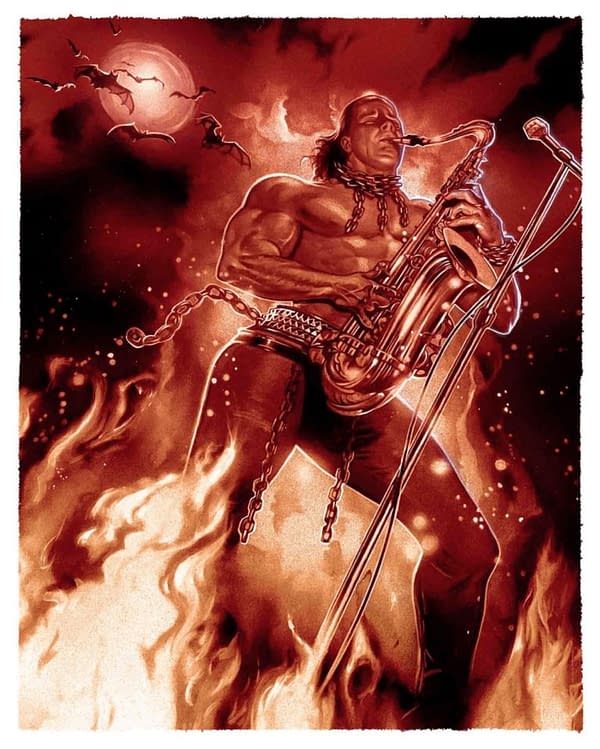 This Tuesday, BNG and ISH are hitting the 80s hard with John Keaveney's sax-y new print, and an allocation of Billy Bob Brockali, from the Rock-afire Explosion band, vinyl figures! We're also releasing the remaining copies of our Lost Boys Replica comic books and Jim Pollock's Skating Fish pewter statues.
Aside from an immense amount of classic moments, the "I Still Believe" scene in The Lost Boys is one of the most purely iconic 80s film moments. Helping establish some of the wilder aspects of "Santa Clara", California, the scene focuses on a shirtless Tim Cappello playing his sax amidst pyrotechnics. John Keaveney's the pin-up King, and with approval from Tim Cappello himself, we're releasing the hottest, sax-iest print of the year–crackle crackle!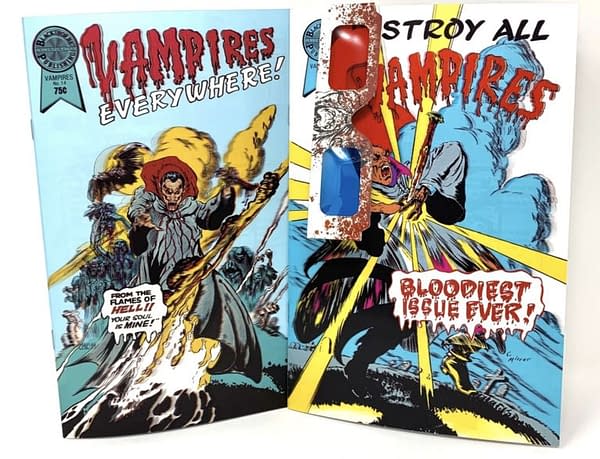 And just a reminder, we only have a couple hundred copies remaining of The Lost Boys Replica comic books that we produced with ISH. They are available as a set in both the regular edition as well as a lenticular/3D edition that comes with awesome 3D glasses! Once they are sold out, they are sold out forever. Thanks to everyone that has supported this project!
---
---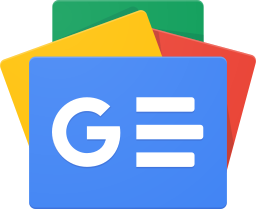 Stay up-to-date and support the site by following Bleeding Cool on Google News today!