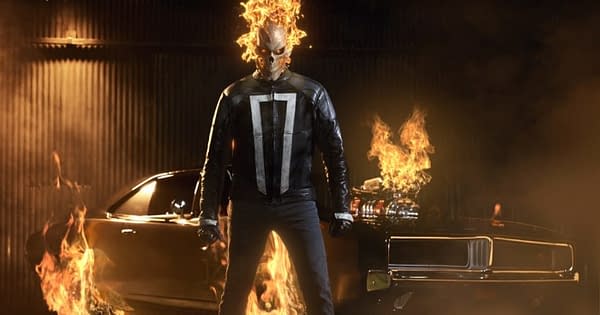 Marvel has announced that Ghost Rider will be returning to Agents of SHIELD for the fourth season finale. The first story arc of this season introduced us to street racer turned spirit of vengeance, Robbie Reyes (Gabriel Luna) and to the Darkhold, a evil book of immense power. Though the book would continue into the second story arc, Robbie disappeared when he helped defeat his uncle and save the world. But to bring the whole thing full circle, Ghost Rider will return and we've got the synopsis for the episode called World's End:
With the surprising emergence of Ghost Rider, Coulson and the team attempt to stop Aida from ending the world on the exciting season finale of "Marvel's Agents of S.H.I.E.L.D.," this Tuesday, May 16 at 10:00 PM ET/PT on ABC!
This sounds like he'll actually be back the episode before, but we don't have confirmation on that… the penultimate episode is called The Return.
At this point, though it is expected to be renewed, there has been no official decision on the series fate going forward. It is possible that we could be looking at the series finale on May 16th.
The final three episodes kick off tonight at 10 PM on ABC.
Enjoyed this article? Share it!