"Sonic" Actor Jim Carrey Examines Cultural Irony Behind "The Truman Show"
Sonic the Hedgehog actor Jim Carrey seldom does sequels. When it happens, it's often for his earlier work like his 1994 comedies Ace Ventura or Dumb and Dumber. Ace Ventura: When Nature Calls (1995) wasn't as well-received as its predecessor. Critics thrashed Dumb and Dumber To (2014). He learned he won't do sequels just to do them citing his condition to do The Mask 2. When promoting Sonic, Collider asked Carrey about The Truman Show and what could happen in the sequel?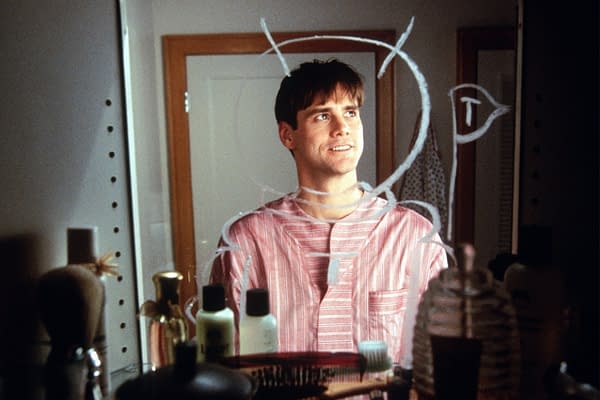 "The Truman Show" Recap
In the world of The Truman Show (1998), Carrey played Truman Burbank, television's most recognizable reality star. Adopted by a network mogul Christof (Ed Harris) at infancy, the world grew up with Truman for the better part of 30 years. The absentee father kept Truman in the dark about the true nature of the world around him. as actors posed as friends, family and the townsfolk of Seahaven. Suspicion arises when set malfunctions and lax planning start to unravel Truman's reality before him.
Driven by forbidden love, Truman looks for ways to get off the island before finally hitting the edge of his world. He finds out Seahaven is built on the world's largest soundstage enclosed in a dome. As Christof begrudgingly reveals the truth about his star's reality, Truman decides to take his chances out in the real world.
Film's Relationship with Its Audience
Carrey offered insight into how contemporary technology and social media turned the Peter Weir film on its head.
"I think The Truman Show is something that exists on a micro level now. It was kind of a story about that on a macro level. But now everybody has a subscriber channel. Everybody has their own little Truman Show world. There's something to be had there. I often think, and am asked about, what would have happened to Truman when he goes outside the wall. It took me a while to realize that basically, he was alone out there, too, because everybody went back inside. They all wanted to be in the dome."
While Carrey's content doing more children's films today, cerebral films like The Truman Show become rarer. The themes of the film lost to contemporary viewers and still lose ourselves to enclosed escapism.
Directed by Jeff Fowler, Sonic the Hedgehog also stars James Marsden and Ben Schwarz as the voice of Sonic. The film comes to theaters February 14th.