I Was On The Phone With Castlevania Producer Adi Shankar But All He Wanted To Talk About Was Pro Wrestling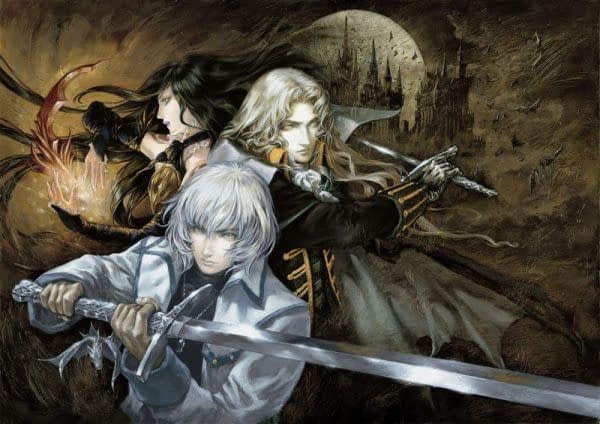 I spoke with producer and actor Adi Shankar in a baffling interview that touched briefly on his work on the Castlevania show for Netflix, his fondness for pro wrestling, and his thoughts on adaptations.
To give you the correct framework for this, I got an email from his PR people after posting about the Castlevania TV series confirmation from the Netflix earnings call yesterday. They wanted to know if I was willing to talk to him to get a quote or two, and if I'd put his name in the headline of the article. I wasn't going to change my headline because why would I do that? So we set up an interview for today. And damn was that call strange.
After asking me where I was based and talking about how he hates the cold, I asked Shankar about Castlevania. With the subject finally raised, Shankar mostly just praised another producer on the project Kevin Kolde who Shankar said "did 90% of the work" because he is the gamer within the production team. Keep in mind, this was in response to me asking "how did you get involved in this project?" which should be a simple thing to answer.
Shankar later denied that the show has a showrunner and instead that himself, Klonde, and Warren Ellis all shared that role between the three of them. This seems weird given that only Shankar seems willing to talk about the project. I reached out to Warren Ellis for a comment and he sent me to the Netflix page for the project and put me in touch with PR. We do know that Ellis was working on a trilogy of films for Castlevania back in 2007 which Rich Johnston wrote a bit about here. So perhaps he's adapted those scripts into a more episodic format?
Shankar also confirmed that the adaptation will be "a dark take on the story and subvert the vampire genre" which is interesting when you combine it with other things we've heard about the project. It's also almost exactly what he said on Facebook over a year ago. Fred Seibert of Frederator is also rumored to be involved in the development, or at least, he was at some point. Seibert's work is mostly known to be in children's animation but then, Frederator properties do tend to draw a wide audience. Adventure Time is produced by Frederator, after all. A source who has done work for Frederator Studios in the past confirmed that "Fred had it on his plate at some point last year." So Seibert may still be involved but that has yet to be confirmed.
When I asked about Konami's involvement in the project, Shankar immediately shifted discussion away from Castlevania and onto adaptations in general and then to pro wrestling. He would not shift back to Castlevania no matter how hard I tried. And I did try. Because I'm a games writer, I do not do our coverage of pro wrestling.
On the subject of adaptations, well, Shankar has been attached to several adaptation projects. He was involved in the gritty Power Rangers short from a few years ago, he also attached himself to both Dredd and the Judge Dredd: Superfiend mini-series. However, his comments mostly boiled down to "its hard to take something from one medium and put it in another vastly different medium… With video games its easy to wind up in a Hardcore Henry situation, and I don't mean to shit on that movie but people came out if it saying it's like watching someone else play a video game that is in fact a fake video game." I asked if he was trying to take that to heart considering Castlevania and he very quickly told me "I wasn't talking about Castlevania specifically but just adaptations in general." Which is weird for someone who was so happy to give quotes to Polygon and IGN about more specifics of the show.
He then quickly segued into his respect for pro wrestling, saying that it is "literally just live theatre," and that pro-wrestling is on a deeper level than MMA. "Pro wrestling is a higher art form than MMA" pro wrestling, when it works – it gets into schlock – the core of it is narrative, they're telling a story… The whole point of the match is to tell a story." He then went on to say, "if we don't pass stories down from generation to generation, we're just animals." I wasn't going to touch that one so left it.
So naturally I asked if any of these observations have applied to his work as a producer. To which Shankar replied "most of the lessons I've learned come from pro wrestling… but no I don't think it's influenced much of my work."
I then asked if he had ever considered working in pro-wrestling and he said "I did consider it once, starting my own wrestling company… but I don't think I'd want to be running a business, managing it, when I could be doing this." Then he told me his schedule was very busy with three projects coming out this year, Adi Shankar's Gods and Secrets and Bodied.
He also has no news on the Judge Dredd front, even though he'd told me to ask about it. He also did not mention his upcoming Power Rangers project. So maybe we'll hear something about Dredd when someone else calls him. Apparently he thinks I like pro-wrestling.
Konami declined to comment on the story when I reached out. Our coverage of the announcement can be read here.