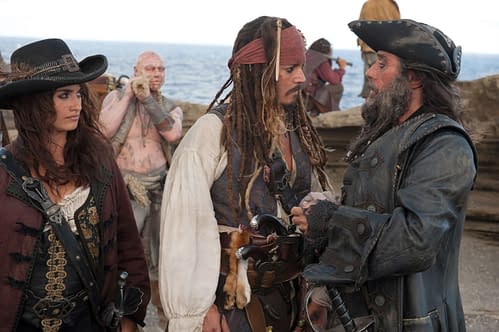 The Pirates of the Caribbean franchise certainly elicits its fair share of sneers from online film buffs, but the money speaks for itself when it comes to Disney justifying making more of them even as quality continues to dip and Johnny Depp is into island-buying money by now…
But it appears there's no hesitation even on the studio's end to make yet another one. Pirates 5 has been in the works for a long time, and even has directors attached, but at Disney's conference call about its finances today, CEO Bob Iger cautions it's not quite there yet:
Disney's Bob Iger says that the fifth Pirates of the Caribbean film has not yet been given the greenlight.

— Marc Graser (@marcgraser) March 18, 2014
Though a matter of greenlight could change in an instant, if they have story, director, cast, etc. lined up.
But even franchise star Ian McShane didn't seem so confident on the film ever happening last month, even mentioning how it's been announced, and then pushed back, announced, and then pushed back, etc.
I'm not sure, but I don't think too many people – at least online – will be mourning this one.
Enjoyed this article? Share it!