Pixar's Soul Moves From June to November
Pixar and Disney have moved their new film Soul out of the summer box office. The last studio tentpole film dated for release in May or June, it will now come out November 20th, right around Thanksgiving. Another Disney film, Raya and the Last Dragon was slated to release November 25th, and that has been moved to March 12th, 2021. This movie was the last domino to fall in the ongoing box office shuffle, as theaters remain closed during the current crisis. No major box office releases are slated to release in May or June now, paving the way for the closures to remain in place until July. Pixar and Disney announced the news today, as first seen on The Hollywood Reporter.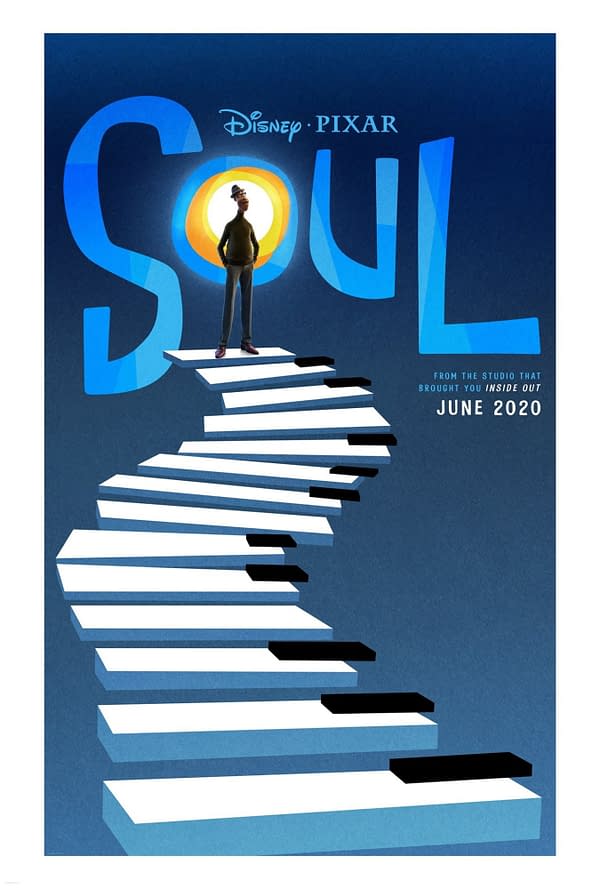 Pixar's Soul Synopsis
Pixar is going out on a limb for Soul, leaning into a more original concept that we haven't really seen from them since Inside Out. The film "follows middle school teacher Joe Gardner (Jamie Foxx), who dreams of being a professional jazz musician. After Joe gets the opportunity to be the opening act at the Half Note Club, he is in a life-threatening accident, and his Soul is separated from his body. His Soul is then transported to the You Seminar, a center where souls develop and gain passions before being transported into a newborn child. When Joe learns that he is still alive, he asks fellow soul 22 (Tina Fey) to help him get his soul back into his body. She refuses to help, though Joe accidentally involves her when the two fall down a tunnel that connects them to Earth." The film features a great voice cast, including Foxx, Fey, Questlove, Phylicia Rashad, and Daveed Diggs, is directed by Pixar mage Pete Docter, and Mike Jones and Kemp Powers wrote the script.
What Hope is There For Theaters Now?
With nothing on the books for another ten weeks, this spells doom for theatrical exhibition. Even if they opened up at the beginning of May or June, there would be weeks upon weeks of new big studio films to put into exhibition houses to entice people in. Not to mention the public is going to be hesitant to go to theaters at first when this all ends. Major chains like AMC are on life support already, and Pixar was the last holdout that help could be on the way. Now, with no end in sight, things have gone from bad to worse.