The Hunt Has Brutally Evolved in New 'The Predator' Red Band Trailer, Poster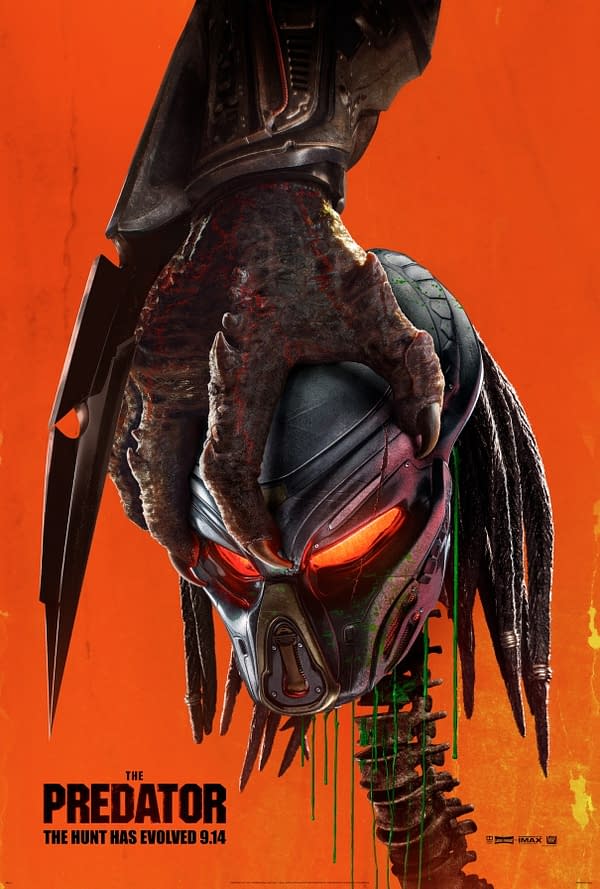 With a tagline like "The Hunt Has Evolved," it's safe to say that 20th Century Fox's The Predator isn't the kind of alien hunter that would have a hard time taking on Arnold Schwarzenegger or Danny Glover – even at the same time. Which is good for the Predator, but – as we see from the recently released red band trailer (and new official poster, above) for the Shane Black-directed film – it's a pretty bad thing if you suddenly find yourself on the business end of a sniper red dot:
From the outer reaches of space to the small-town streets of suburbia, the hunt comes home in Shane Black's explosive reinvention of the Predator series. Now, the universe's most lethal hunters are stronger, smarter and deadlier than ever before, having genetically upgraded themselves with DNA from other species. When a young boy accidentally triggers their return to Earth, only a ragtag crew of ex-soldiers and a disgruntled science teacher can prevent the end of the human race.
Directed by Shane Black and co-written by Black and Fred Dekker (based on the characters created by Jim Thomas and John Thomas) with John Davis prodcuing, The Predator stars Boyd Holbrook, Trevante Rhodes, Jacob Tremblay, Keegan-Michael Key, Olivia Munn, Sterling K. Brown, Alfie Allen, Thomas Jane, Augusto Aguilera, Jake Busey, and Yvonne Strahovski.
The Predator lands in theaters on September 14, 2018.

In a set interview with iFilm last month, Black spoke of what it was like creting a new vision for the franchise while still remaining loyal to some core principles:
"Well, I think that there's a basic premise that has to be honored every time you make a Predator film and that's in some way, whatever the plot turns out to be, it has to, at some level, represent a hunt. But, beyond that I think there's infinite variability. It's like, monkey bars, you ever play on the jungle gym when you were a kid? It looks like they're rigid and hard and it'd be hard to play on these things because they're so rough, but if you go inside them there's actually a lot of room to move around, you just know that the borders are there every once in a while.

So, we just tried to take the existing mythology and take it a step further. Ask some questions about why? Why Predators do what they do? What would be the next step for them? How do we up the stakes so that there's not just a single Predator hunting a group of soldiers? Who are the soldiers? How are they different? What's the heroic quotient and how do you make it not just guys with tough talk and big arms? I mean, I always favor real characters with real actors in these movies. I'm happy to have someone like Jesse Ventura, he's actually a fine actor as far as that goes. But, the actors we tended to get for this are a cut above I think, the average tough guy."