A former 6-Man Tag Champion and member of one of Ring of Honor's most formidable stables, The Kingdom, Vinny Marseglia, is set to star as the killer, Damon, in the upcoming horror movie The Find. Directed by Daniel C. Dahlstrom from a screenplay written by Eric Weinstock, the movie is produced by David Gere and Chelsea Vale, who also stars in the movie. It's set for release this Halloween.
But before then, the Horror King and his tag team partner TK O'Ryan have to go through Coast 2 Coast at tonight's ROH War of the Worlds event in Lowell, Massachusetts. Fellow Kingdom member Matt Taven also takes on Dalton Castle for the ROH Championship tonight, amongst other matches featuring stars from both Ring of Honor and New Japan Pro Wrestling. If you aren't in the area to attend in person, you can stream the event live as a member of ROH's Honor Club streaming service.
Ahead of tonight's event, Marseglia sat down with Bleeding Cool to talk about The Find, horror, wrestling, and YouTube.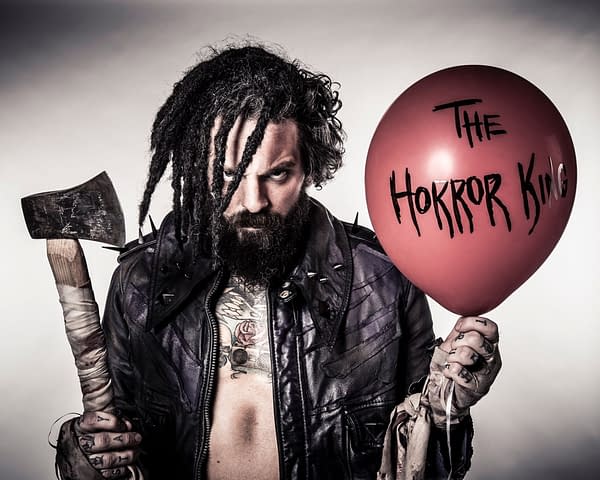 Bleeding Cool: Tell us about the movie "The Find."
Vinny Marseglia: The movie The Find was filmed in Chester, Connecticut. It's by Vale Productions, which is David Gere, who is a director who works for Verdi Productions, which is a company based out of Rhode Island that produces a lot of movies and they also work with Lionsgate on a few different films as well.
The Find is basically about an ancient Indian tribe… There's this ring that's connected to it and Damon, the character that I play, is basically in search of this ring which is at study hall inside of this big mansion that these kids rented out for their winter break. A couple of college kids rent this place on their winter break and have a good time. There's a study hall there which has all this ancient Indian tribes stuff, and, basically, Damon, my character, has a feeling that this ring is located at the house. So Damon ends up at this house in search of the ring and obviously, he comes across the college kids partying and then I'm sure you can kinda guess where that leads to. So, it was really awesome. It was in the middle of nowhere, Chester Connecticut, a very wooded area. But the House is unreal. One of the biggest houses I've ever seen. It had a bowling alley in it. It was pretty cool.
It comes out on DVD and Netflix on Halloween. The trailer is actually going to be available this Monday. I'm going to post up the trailer so everybody can see it. They sent me a clip of one of them and it was unbelievable. I got goosebumps watching it, which is always a good thing, for me, watching a movie trailer because I'm a huge movie guy growing up as a kid. Especially horror itself. So I'm pretty excited for it. It's gonna be cool.
BC: How did you get involved in the movie?
VM: Basically, David Gere is a very big fan, and he saw the character, and he basically said, "Hey I love your look and the Horror King thing is fantastic. Would you want to play in a horror movie? I'm going to send you the script. Why don't you read through it let me know." Growing up as a kid, that was a dream of mine. Being a pro wrestler was always number one, but I'd always want to be in a horror movie too. So I didn't even look twice at the script. I was like yeah I'll do it. It was just a very cool thing presented to me. And then when I read the script I was just in love with it and couldn't wait to do it. It was very cool.
BC: What's the transition like going from wrestling to acting in a movie?
VM: They're both very hard. They take a lot of work. Both have a lot of waiting around. That's the biggest thing. So they're definitely similar in that. But they both have their different tough spots. Wrestling, obviously, is a lot more dangerous, and the filmmaking is tough because you have to do so many different takes for so many different angles and different scenes. So it's tough in that sense where you're like, "OK can I get into this character?" and be like "OK I gotta make sure that this looks correct as it did before, I want it to look like this." So it's tough in that sense. But it was it wasn't too hard, especially since I wanted to do that for since I was a kid. So it's something I've always thought I'd be able to do and had in the back of my mind, so it was it was awesome.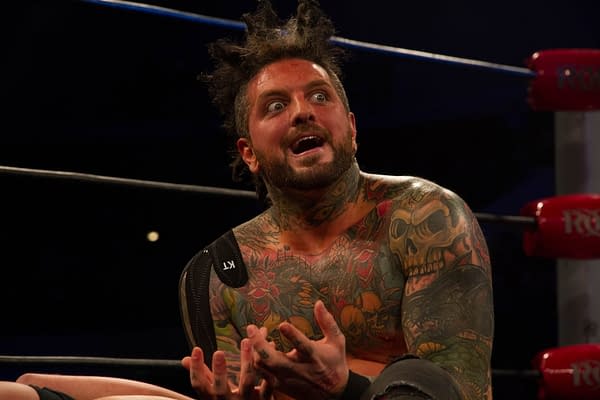 BC: Obviously, you're a big fan of horror. What's your favorite all-time horror movie?
VM: Oh, my all-time favorite movie period is The Lost Boys. My wife and I have three of the screen-used jackets framed in shadow boxes in one of our rooms. So diehard Lost Boys fan. Overall favorite movie. But some people don't really classify The Lost Boys as like a "horror" horror movie, you know? So if we're gonna go slasher, I'd probably go with Halloween.
BC: You got the jackets from 'The Lost Boys' but you keep them in a box? I'd be wearing them!
VM: They're in a shadowbox frame on the wall. I have a couple different movie props. We do have a Halloween mask which is in a class case in our living room along with a couple different Jason masks and stuff like that.
BC: Do you follow horror outside of the movie medium? Any favorite books or comics or anything like that?
VM: I like all of Stephen King's books. Those are probably my favorites. My wife is huge into horror books. For me, I'm more of the movie guy, but if I had to pick any type of horror books, I love the Stephen King ones. I used to love reading the Fangoria back in the day, they used to have the Fangoria Magazine, and I still have a few of them left. Those are cool too. But Stephen King books would probably be it.
BC: Another pro wrestler whose branched out into horror films is Kane from the WWE. It looks like he's on his way now to becoming the mayor of Knox County, Tennessee. Could you see a political career in your future after wrestling?
VM: You know, I would like to know do some more horror films. That would be fantastic. But the political stuff, I'm not very into. I was never into that. But I would love to be in more horror films, which is kind of the plan right now. I don't know when.
BC: Tonight, you're fighting Coast 2 Coast in a tag team match at War of the Worlds in Lowell, Massachusetts. What should fans expect from the match tonight?
VM: Body parts flying from coast to coast, because I'm bringing an ax to the ring. It's gonna be a great show. It's in Lowell, Mass., where The Kingdom actually started and debuted. So we're really excited for it. It's gonna be a good show. We're gonna see a lot of familiar faces from the area that followed our career throughout the time that we've been wrestling. So, I'm really excited for the whole show tonight. That's where The Kingdom debuted.
BC: So is it special to you to wrestle there?
VM: Yeah. It's always special to come back to Massachusetts. You know what I mean? Coming from wrestling for pizza and soda to wrestling for a living is just really really cool to me and I'm really grateful for it. So I'm really excited. Lowell's always a good time. Massachusetts is just great for wrestling.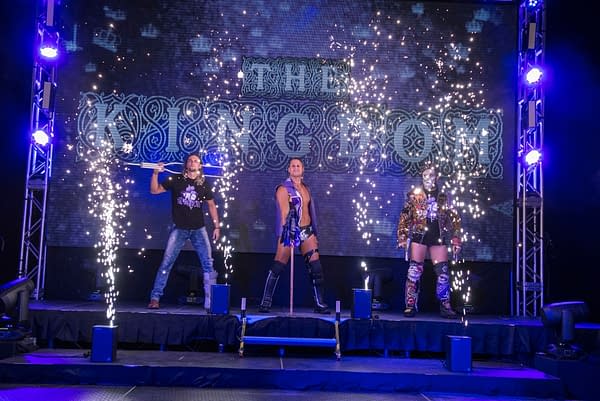 BC: What's next after tonight's match what's your long-term goal in Ring of Honor?
VM: To continue to get better. Continue to carry red balloons everywhere, fill the arenas with red balloons if I can. But the next move for The Kingdom would be to kill the Conspiracy, actually get our fair shot, and win the Ring of Honor Six-Man Tag Team Championships back. That's our goal right now. And obviously, another goal for tonight is for Matt Taven to become the Ring of Honor World Heavyweight Champion.
BC: Ring of Honor recently launched the Honor Club streaming service, and now VIP members can stream live shows like tonight's event for free (after paying the subscription cost). Have you noticed any impact yet?
VM: Absolutely. Absolutely. I think the Honor Club live stream is doing very well. It seems to be getting a lot of attention. It seems like a lot more people are following the product through it. So it's pretty cool. It's a cool thing that they did. On my end, it seems to be working.
BC: I also saw on Twitter that you just launched a new horror podcast.
VM: Yes, I just started a YouTube show called The Vinny Horror Picture Show in which, basically, I have different guests on and I talk about what their favorite horror films are. It's just a little fun thing that I always wanted to do, so I just kinda went with it. It got a lot of views already, so I'm pretty excited to see where it heads to.
BC: Does having a presence like that on social media, on YouTube, help your wrestling career?
VM: With me having such a love for horror bringing horror to Ring of Honor, I just feel that maybe The Vinny Horror Picture Show — The Vinny horror Picture Show has nothing to do with wrestling — but maybe people that are fans of horror that follow The Vinny Horror Picture Show, that take interest in that, maybe they'll take interest in the Horror King being at Ring of Honor and potentially become a fan of the product or the Horror King in general. I'm just kind of reaching out to more fans out there that might be horror fans in general that might end up taking a liking to the Ring of Honor product. It's something that I always wanted to do.
The thing is, I was kind of on a "do I want to do this or do I not?" because there's so many podcasts and horror podcasts and whatnot out there, but on The Vinny Horror Picture Show, I'd like to have different horror movie actors and actresses and wrestlers, talk about their favorite horror films or their favorite horror moments or horror films they were in, or whatever it may be.
BC: Well, thanks for taking the time to talk to us today. Can you tell our readers where they can find you online?
VM: You can find me on Twitter at @TheHorrorKingVM, on Instagram @TheHorrorKingOfficial, and Facebook /VinnyMarsegliaOfficial (which I need to change. I have so many different officials and this and that). But that's where you can find me online, and you can find me tonight under the ring, red balloons and ax, ready to chop up Coast 2 Coast.
BC: Good luck tonight.
VM: Thank you for having me.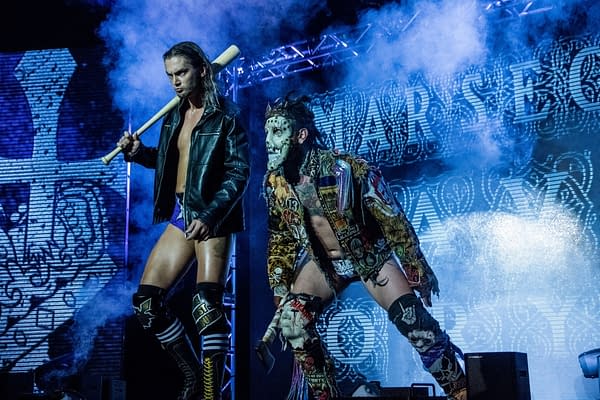 Enjoyed this article? Share it!