Ryan Reynolds Talks Baby Legs and Baby Hitler in Deadpool 2
You never know what the MPAA is going to say when it comes to what is allowed and what isn't in a movie. When you're intentionally pushing the boundaries like Ryan Reynolds and Deadpool 2 it might mean that someone is going to call and ask you to justify why you should be allowed to keep that joke and not get a NC-17 rating.
Reynolds talked to The Hollywood Reporter about how one particular joke had him worried he was going to have to do some explaining.
"I didn't know if I was going to have to go down and arbitrate with the MPAA and explain that's my tiny dick and balls, not CGI. But it wasn't a problem," joked Reynolds.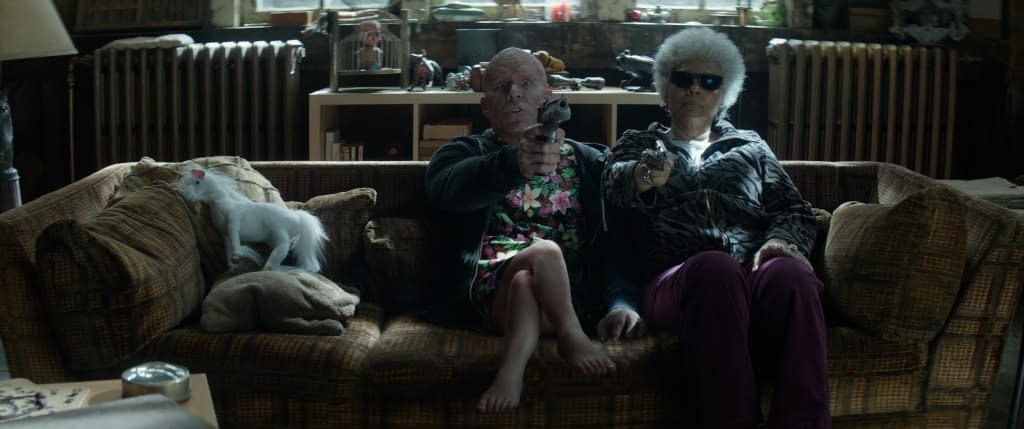 Then there was the idea of baby Hitler. At the end of the movie, Deadpool is given the chance to time travel and fix a bunch of things like saving Vanessa and Peter's lives. He also goes back and "fixes" other things like killing the version of Deadpool from X-Men Origins: Wolverine and the actor Ryan Reynolds before he takes the role in Green Lantern. There was one aspect of that scene that they filmed but that didn't make it into the theatrical cut of Deadpool 2- Deadpool going back in time to kill baby Hitler.
"I always loved it, because it created the same debate in our edit room as it does in the streets of the world," Reynolds said. "It was debated back and forth, and over and over again. We were all a little nervous about it, wondering, 'Is it too much?' None of us could come to a consensus on how to handle it, so our final decision was to just not handle it, to just not put it in the movie. We cut it out partially for time, but also to give us something really fun to add into the coda of the DVD."
It's an ultimatum that comes up all the time and it's one that everyone would understand; if you could stop one of the greatest atrocities of recent years would you? If you want to know what choice Deadpool makes in Deadpool 2 you need to stay through the credits.
Summary(?): After surviving a near fatal bovine attack, a disfigured cafeteria chef (Wade Wilson) struggles to fulfill his dream of becoming Mayberry's hottest bartender while also learning to cope with his lost sense of taste. Searching to regain his spice for life, as well as a flux capacitor, Wade must battle ninjas, the yakuza, and a pack of sexually aggressive canines, as he journeys around the world to discover the importance of family, friendship, and flavor – finding a new taste for adventure and earning the coveted coffee mug title of World's Best Lover.
Deadpool 2 Super Duper $@%!#& Cut, directed by David Leitch, stars Ryan Reynolds, Morena Baccarin, T.J. Miller, Josh Brolin, Brianna Hildebrand, and Zazie Beetz. It's out on digital download today and Blu-ray/DVD on August 21st.