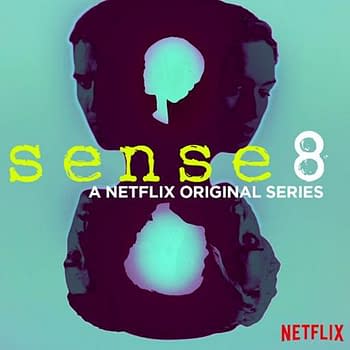 Fans of Netflix's Sense8, the multi-cultural telepathy sci-fi drama from The Wachowskis and J. Michael Straczynski will have an unexpected gift under the tree on Christmas Eve. For some reason, the show is getting a Doctor Who style Holiday Special, to be released on December 23, according to a report by Deadline. The official description of the Holiday Special reads:
The journey continues as these eight singular hearts and minds weave in and out of each other's lives finding deeper connections, learning darker, more desperate secrets about one another and struggling to identify with more than just oneself.
In addition, Netflix has revealed that the second season of the show will be released on May 5.
It's unclear whether or not the Holiday Special will feature Aml Ameen, who played Van Damme in the first season of the show, as he reportedly quit the show during the filming of the second season. Deadline said back in April that Ameen had been replaced by Toby Onwumere two episodes into the second season due to a conflict with Lana Wachowski, after which Jamie Clayton, who plays Nomi on the show, tweeted:
HEY SENSIES!! CHECK OUT THIS EXCITING NEWS!! https://t.co/D9wHGwjxvR #Sense8

— Jamie Clayton (@MsJamieClayton) April 27, 2016
IT WON'T! NOW THE WRITING & CHARACTER CAN SHINE AS THEY WERE MEANT TO! https://t.co/6bkCmYdQZ6

— Jamie Clayton (@MsJamieClayton) April 27, 2016
Responding to this tweet…
https://twitter.com/iovmoneyparty/status/725149364432326656
…Clayon said:
https://twitter.com/MsJamieClayton/status/725150654591725572
The tweets prompted speculation that the dispute could be transphobic in nature, as both Clayton and Wachowski are trans women. However, when the Clayton was asked about it…
@MsJamieClayton hey !
was @AmlAmeen transphobic or stuff ? I wish I could understand why you seem so happy to see him leave xx

— ju (@bagarretoi) April 27, 2016
…she responded:
I never said that! Change can be hard but, I'm staying positive for the show & the fans! Let's choose happiness! https://t.co/XKkIRuaqNe

— Jamie Clayton (@MsJamieClayton) April 27, 2016
In any case, the Holiday Special could be Onwumere's debut. If we find out more, we'll let you know.
Enjoyed this article? Share it!