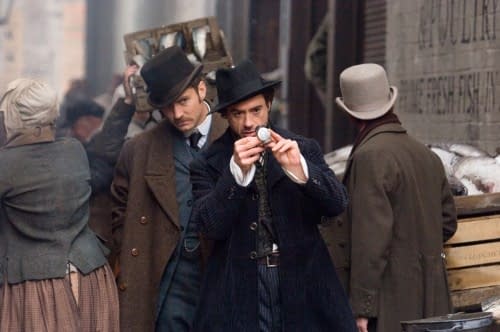 It's been a fair while since Sherlock Holmes: A Game of Shadows. The Guy Ritche films were super fun, but the franchise has taken a backseat somewhat as talent go out and focus on other things.
However, it seems Warner Brothers are trying to fast track the film finally. According to Variety, the film is getting pushed forward, and in a pretty serious fashion. The studio is assembling a writer's room with some serious power behind it, bringing in Guardians of the Galaxy's Nicole Perlman, Baywatch's Justin Malen, Rogue One's Gary Whitta, Tomb Raider's Geneva Dworet-Robertson and Snowden's Kieran Fitzgerald. The group will help 'shape the script and story'
That is a lot of talent to work on one film. 'Writers rooms' are becoming more of a thing now, but thus far have been saved mostly for shared universe development. That doesn't appear to be the case here, but one source told Variety that the idea is to cut out the process of loads of re-writes by different writers as is common now and just get a lot in one room to work on the story at once.
I'll be quite interested in seeing exactly how this ends up playing out.
Robert Downey Jr., Jude Law and Guy Ritchie are all expected to return.
Enjoyed this article? Share it!