First of all, we don't honestly see the issue with Captain Marvel's more makeup-inclusive look in the Avengers: Endgame trailer, we really don't. It still maintains much of the 90's influence on the character (that lip color tho), and chances are in her time in space, maybe she took a little time for herself between fighting and saving the Skrull.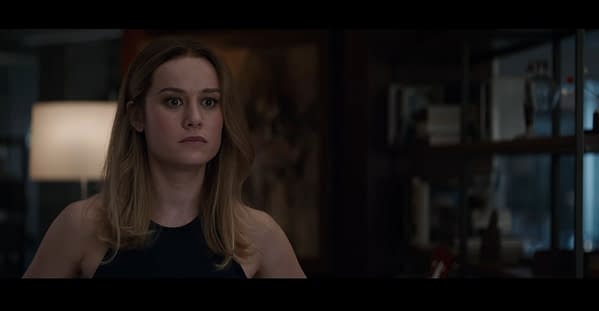 It apparently was a big matter of contestation with fans when the new trailer hit, questioning why the less-is-more hero was suddenly all glammed up.
The Russo Brothers Joe and Anthony recently cleared up (kinda) why the departure from the previous look for Brie Larson's Captain Marvel, and it all boils down to scheduling.
Turns out, that scene was the FIRST Larson filmed as Carol Danvers.
Joe Russo explained to /Film:
"This was Brie's first time playing the character. She [filmed Avengers: Endgame] before she filmed Captain Marvel, and I think she was experimenting with what the character was. And those were the choices that she and her hair and makeup team had made. And I think as she started to gain a deeper understanding of the character, especially as she approached her own movie. She started to make different choices and as an artist she should be afforded that right to make whatever choice that she wants to make."
Larson even touched on the special place Endgame has for her, as it was the first time she was the character:
"This film [Endgame] will always be personally dear to me because it was my first time playing Captain Marvel. We shot this first so I had to stumble and figure out who this character was with no script for this and no script for Captain Marvel, either, and perform for the first time in front of legends."
The Russo Brothers Joe and Anthony return to the MCU to direct Avengers:Endgame, which stars Robert Downey Jr. (Iron Man), Chris Evans (Captain America), Josh Brolin (Thanos), Scarlett Johansson (Black Widow), Chris Hemsworth (Thor), Jeremy Renner (Hawkeye), Brie Larson (Captain Marvel), Danai Gurira (Okoye), Paul Rudd (Ant-Man), Karen Gillan (Nebula), Mark Ruffalo (Hulk),Don Cheadle (War Machine), Tessa Thompson (Valkyrie), and Bradley Cooper (Rocket Raccoon).
Avengers: Endgame hits theaters on April 26th, 2019.
Enjoyed this article? Share it!