Better late than never, right?!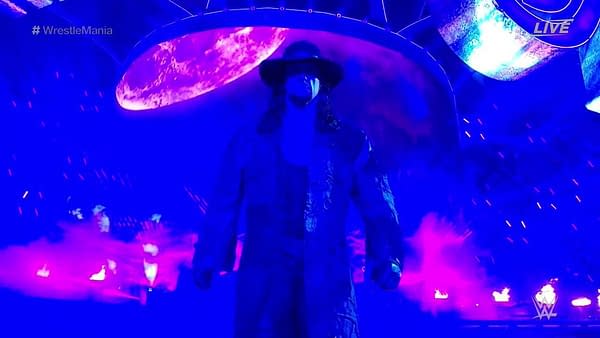 Waiting until the absolute last minute, WWE legend The Undertaker finally showed up to accept John Cena's challenge, smack dab in the middle of WrestleMania. International entertainment superstar Cena spent weeks calling out The Undertaker, taking time from his busy schedule of hosting Nickelodeon shows, and Undertaker couldn't even be bothered to respond until tonight, even after Cena beat up Undertaker's brother, Knox County Mayoral Candidate Kane.
Defeated, on the Raw before WrestleMania, Cena resigned himself to go to WrestleMania as a fan. And that's exactly what he did, sitting in the stands to watch the early part of the show. Then, a ref jumped over the barricade to give Cena a message. Cena ran backstage. Was the Undertaker in the Superdome?!
A little later, Cena came back out, with entrance music this time. The lights went out… and the gong sounded… wait, no. That wasn't a gong. It was the strum of a guitar. Out came Elias, telling Cena to get back in his seat as a spectator, where he belongs.
"Were you expecting somebody else?…That somebody else doesn't have the unimaginable athletic talent that I possess!" – @IAmEliasWWE #WrestleMania pic.twitter.com/J2K4dIUEiT

— WWE Universe (@WWEUniverse) April 9, 2018
Elias then sang a song about how Elias, and all of the people in the Superdome, suck. A frustrated Cena charged the ring and beat Elias up (everyone's a music critic). Cena's music played, and he walked up the ramp…
Frustration has boiled over for @JohnCena…#WrestleMania pic.twitter.com/CVDxHqImBE

— WWE WrestleMania (@WrestleMania) April 9, 2018
And then the lights went out again. And then they came back. In the ring, were Undertaker's coat and hat, right where he left them one year ago. And then lightning struck, and the clothes disappeared. And then the lights went out again. And then the gong sounded.
A familiar sight…#WrestleMania pic.twitter.com/yQVVcmGGjH

— WWE (@WWE) April 9, 2018
He's back!
HE'S HERE.#WrestleMania #Undertaker pic.twitter.com/Ry29DBr4Pa

— WWE (@WWE) April 9, 2018
Took him long enough!
Then he kicked Cena's ass in under five minutes.
For all we know, this match could be Undertaker's last, as the 53-year-old hasn't competed in a match since last year's WrestleMania, after which many believed him to be retired. It could also be Cena's last match, or at least the last one for a while, as Cena's movie and children's television career seems to be picking up, and despite all that stuff Cena said about The Rock a few years ago, the only thing stopping him from leaving pro wrestling behind for Hollywood before now was a lack of good offers.
FOR WHOM THE BELL TOLLS.#WrestleMania #Undertaker pic.twitter.com/MkjlRtVzhp

— WWE (@WWE) April 9, 2018
At least this retirement, Undertaker went out on a high note.
Be careful what you wish for, because you just might get it.#WrestleMania #Undertaker pic.twitter.com/6WxiwqjYSN

— WWE (@WWE) April 9, 2018
Enjoyed this article? Share it!