Sony Gives Uncharted and Into the Spider-Verse 2 New Release Dates
The amount of productions that have been impacted by COVID-19 is amazing, and we'll be feeling the consequences within the industry for years. However, for some of those movies, it almost seems like kicking a production when they were down. For example, it very much looked The New Mutants was finally going to get to see the light of day, there was a marketing campaign and everything, only for COVID-19 to close down movie theaters. Disney still has not dated The New Mutants as of this writing. One of the other movies that looked like it was finally going to get off of the ground was Uncharted. This adaptation of the video game series has been languishing in development hell for over a decade, and last month it looked like they were finally ready to get production, it was in pre-production, off of the ground when they got hit with a six-week delay. It very much looked like this movie was going to see another release date change and probable delay.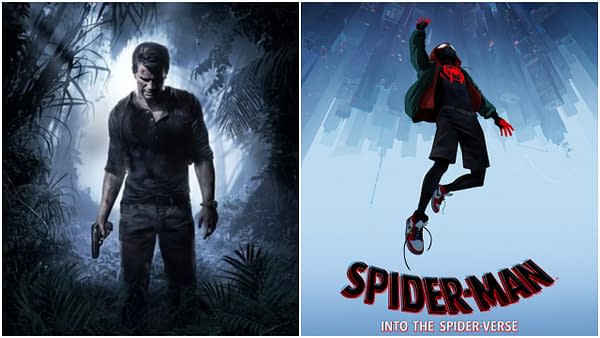 It turns out that isn't exactly the case. After Deadline reported on the Disney and Sony Marvel movies shifting dates, it looks like there were some more added to the list, and one of those is Uncharted. Even though cameras have not rolled and this production just can't seem to get off of the ground, Sony Pictures has actually moved the release date up from October 8, 2021, to July 16, 2021, taking the place of the third Spider-Man movie. That is prime real estate in terms of release date, and it also means that by the time production can actually get going, they are going to have about a year for shooting the movie, post-production, and pick-ups. That isn't a lot of time, and if this movie is like the game, it isn't going to be a small production. We aren't confident that this release date holds.
We are also sad to report that the sequel to the best Spider-Man movie and possibly the best superhero movie of all time [don't @ me] Spider-Man: Into the Spider-Verse has also seen a delay. The animated film was initially supposed to come out on April 8, 2022, and will now move to October 7, 2022, which is honestly fine. It puts the movie closer to awards season where it rightfully belongs.
Here is the list of other Sony Pictures productions that have moved their release dates:
–Lord and Miller's Sony Pictures Animation title Connected moves a month from Sept. 18 this year to Oct. 23.

—Escape Room 2 will open on Jan. 1, 2021, the traditional slot for Sony horror pics instead of Dec. 30 this year.

–Paul Weitz directed Kevin Hart drama will open on April 2, 2021 instead of Oct. 23 this year.

–Sony Pictures Animation's Vivo will open on June 4, 2021 instead of April 16 next year.

—Hotel Transylvania 4 will open on Aug. 6, 2021, moved up from Dec. 22 next year.

–Kevin Hart and Woody Harrelson comedy Man From Toronto heads to Sept. 17, 2021, off from this year's Nov. 20.