With Great Power Must Come Great Arrogance and Greed – Why the Sony/Marvel Spider-Man Deal Fell Apart
Tony Panaccio began life as a newspaper journalist, worked in PR representing William Shatner and Stan Lee, wrote speeches for Bill Gates, was Senior Vice President of CrossGen Entertainment, now directs works with Hollywood studios and broadcasters, and occasionally designs Bleeding Cool with his presence. He's been looking at the Marvel/Sony Spider-Man issue and has a few things he'd like to share with us.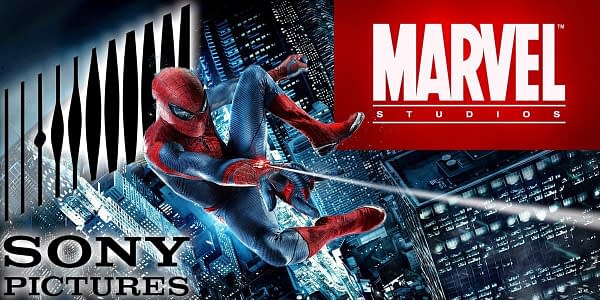 As the fan community bemoans Marvel and Sony failing to come to terms on more jointly-produced Spider-Man films, the outcome truly comes as no surprise to anyone who has followed Sony for any length of time. Arrogance and greed are the driving forces of their corporate culture, and it has ever been thus.
Going back to the 1990s, when I was VP at TSI, the PR firm that handled PR duties for global giants IBM and Sony, as well as game companies like Westwood Studios (who released the very first version of Grand Theft Auto for PC), Sony was a problem child. My team had just accepted a job from Warner Bros. to roll out their very first DVD releases (yes, I'm an old man, now). When Sony found out, they nearly pulled more than $1 million worth of business from our firm, because Warners' technology partner was Toshiba, the Hatfields to Sony's McCoys.
Sony magnanimously allowed us to fulfill the one-time contract — after all, if we broke a contract for them, how would they know we wouldn't be willing to break their contract to work for Warners? — but made it clear that we could not accept any work from Warners or any other partner of Toshiba.
Fast-forward to 2014, when Sony's emails were hacked by a group linked to North Korea, revealing top Sony execs Amy Pascal and Scott Rudin's arrogant comments about Angelina Jolie and others. Jolie had been pushing David Fincher to direct the film Unbroken, which Sony saw as a threat, as they wanted him to direct the Aaron Sorkin scripted biopic of Apple founder Steve Jobs. From The Guardian:
Another Rudin email also attacks Jolie, calling her a "minimally talented spoiled brat who thought nothing of shoving this off her plate for eighteen months so she could go direct a movie [Unbroken]… She's a camp event and a celebrity and that's all and the last thing anybody needs is to make a giant bomb with her that any fool could see coming."
Other titbits include a conversation about Michael Fassbender for the part of Jobs – Michael DeLuca, president of production at Sony studio Columbia, writes that Fassbender's role in Shame "just makes you feel bad to have normal-sized male genitalia." David Fincher meanwhile told Pascal that the casting of Adam Driver in Star Wars was a "terrible idea," while Rudin also attacked Her and True Grit producer Megan Ellison, calling her a "bipolar 28 year old lunatic".
Steve Jobs would not be produced by Sony, landing with Universal and Scott Rudin's own production company once he left the company, landing several Oscar noms and Golden Globes, and Jolie would later direct Unbroken herself, earning critical acclaim and box office success, establishing her as a successful crossover from acting to directing.
In the meantime, Pascal resigned, but still landed a gig producing the new Spider-Man films with Sony and Marvel, almost as if there was a tacit admission by Sony that they weren't necessarily ashamed of her arrogance. They fired her out of public pressure, then put her in the producer slot, where she would make far more money than she would have as a Sony executive.
More recently, Fortnite players railed against Sony's decision not to allow crossplay between Fornite players on Playstation and XBox. From Eurogamer.net in June 2018:
A former Sony developer has said the great PlayStation 4 cross-platform block is all about the money.
John Smedley is the ex-boss of Planetside 2 and H1Z1 developer Daybreak Game Company, which changed its name from Sony Online Entertainment in 2015.
In a tweet referencing the fact those who used their Epic account to log-in to Fortnite on PS4 can't use the same Epic account on other consoles, Smedley said Sony's controversial policy comes down to money.
"… when I was at Sony, the stated reason internally for this was money. They didn't like someone buying something on an Xbox and it being used on a Playstation. simple as that. Dumb reason, but there it is."
In the context of Fortnite, this would mean Sony doesn't like the idea of a player on Xbox buying a character skin via Xbox Live (and in the process handing Microsoft a 30 per cent cut of the revenue), then logging in to the PS4 version and being able to use that same skin on their persistent, cross-platform character when playing the game on Sony's console.
Which brings us to the current situation with Marvel and Spider-Man. Back in 2014, I foreshadowed a Sony/Marvel partnership, making the case it made good business sense, as long as the executives left their egos in the other room. I was soundly ridiculed, with commenters saying there is no way Sony would ever partner up on Spider-Man. And they had every reason to believe that, given Sony's track record. But after two under-performing Spider-Man films, I felt Sony's disdain for failure is what brought them to the table.
But now the success of the last two Spider-Man films, and Sony's disdain for having to split the massive take 50-50 with Marvel, has awakened the company's inherent penchant for greed. With both star and director attached, regardless of who produces the films, Sony believes it no longer needs the world's smartest and nerdiest fanboy Kevin Feige to help them guide the franchise. So, why share the loot if you've already learned the secrets of how to make a good Spider-Man movie, right?
Wrong. Sony's greed is matched only by its arrogance, and Sony has a long history of interfering with filmmakers, disregarding artists' instincts in favor of corporate guidance. As I felt a Sony/Marvel partnership was possible in 2014, I believe Sony will likely come back to the fold with Marvel at some point, because they will, again, fail to meet market expectations with the crown jewel of Marvel IP. After all, arrogance doesn't pay the damn bills.