The Han Solo solo movie is mere months away from hyper-spacing into theaters, and it looks like Disney is finally getting on the media push.
The official Star Wars Twitter account just released a short time-lapse video showing the construction of a familiar spaceship cockpit out of cardboard, featuring a chair and some notable personalities surrounding it:
Prepare to make the jump into hyperspace. Solo: A Star Wars Story is in theaters on May 25. #HanSolo pic.twitter.com/Mf39OAGW7M

— Star Wars (@starwars) March 9, 2018
A screenshot of the final moment of the video shows everyone gathered around the pilot's chair.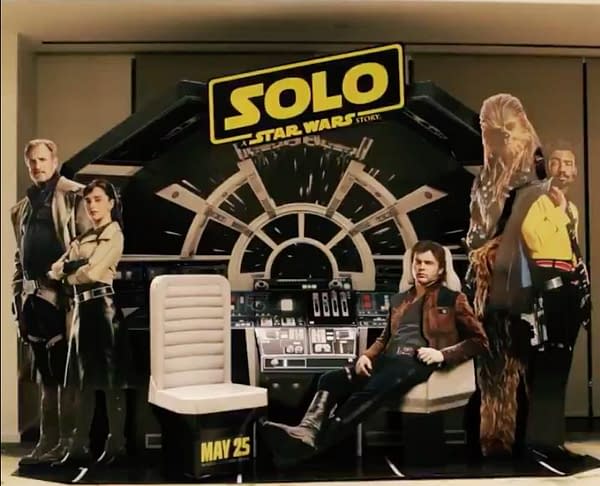 That's Woody Harrelson as Beckett on the left, Emilia Clarke as Kira, Alden Ehrenreich as Han Solo, Joonas Suotamo as Chewbacca, and Donald Glover as Lando Calrissian.
It's kind of a great design, and WORLDS better than the first rather simple poster, and the possibly-not-original artwork featured on the current crop of posters. (You can read more about those here.)
Ron Howard stepped in to complete the film after original directors Chris Miller and Phil Lord were let go from the project by Kathleen Kennedy for a myriad of reasons (that we'll probably learn more about when the film opens).
Solo will feature at least one piece of music by Star Wars composer John Williams, although John Powell (Shrek, How to Train Your Dragon, The Lorax) is handling the score for the film.
Solo: A Star Wars Story hits theaters on May 25th.
Enjoyed this article? Share it!