Star Wars The Last Jedi "Broom Boy" Shoots His Shot On Returning
Star Wars: The Last Jedi is the most divisive film of the last decade. No matter which side of the argument, you fall on that cannot be denied. What also cannot be denied is that the ending is awesome. During the Canto Bight sequence in the film, we meet a young stable boy named Temiri Blagg, who helps Rose and Finn escape some dire circumstances. At the very end, we meet him again, excitedly discussing the exploits of Luke Skywalker. After being chased off, the real special moment happens when he uses the Force to bring himself a broom, hence his nickname "broom boy." As he sweeps, he sees a ship go into hyperdrive and stares and a galaxy of possibilities, as credits roll. Star Wars fans love the ending, as it leaves us on a great message, that while things may seem dire, there is always good and hope in the universe.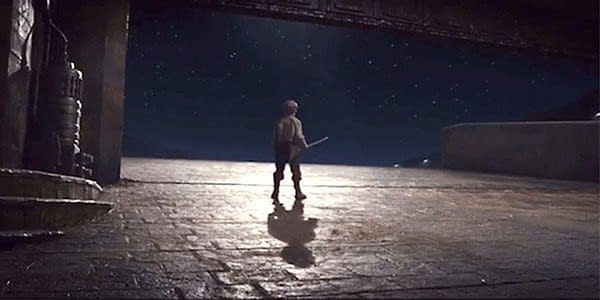 Star Wars Broom Boy Would Love To Return
In a new interview on YouTube interviewer Jamie Stangroom, broom boy himself Temirlan Blaev talked a little about not coming back for Star Wars: The Rise of Skywalker and how he hopes to continue his story: "I think it was unexpected, but everyone's reaction, it just said, 'Who is this boy? What could this mean? Is he the next Jedi? Who is he? I think that brought a lot of talk up about who my character really was. After I read the script, I kind of understood that he was Force-sensitive. I thought to myself that could mean something about my character." On not being in Rise of Skywalker: "I wasn't sure, because it could have been, yes, he would have continued my story, how Rey would have trained me or helped me in some way," Blaev said. "But at the same time, am I really that important? Am I someone big or am I really just a boy, a lucky boy in a galaxy far, far away? There could be a chance to actually continue the story of the character. I think it could happen. I would be up for it."
To that, most of us would say, "Duh." Of course, he wants to return. Who wouldn't want to be in as many Star Wars films as they could? I actually hope that they do pick up his story, though. One of my favorite arcs of The Clone Wars series is the younglings arc, where they build their own lightsabers and such. It was a ton of fun, and seeing a story where they focus on Force-sensitive children would be a really cool idea. With so much Star Wars coming out these days, anything is possible.