One of the big questions going into Star Wars: The Last Jedi was "who were Rey's parents?" Was she secretly a Skywalker? A Solo? A Kenobi? People spent the better part of two years coming up with their own theories. We got our answer in The Last Jedi and some people weren't thrilled about it. The Hollywood Reporter spoke to writer/director Rian Johnson about the reveal but to get into it will require a spoiler warning. .
.
.
.
.
.
.
.
.
.
.
.
.
.
We found out that Rey's parents were a bunch of nobodies which made a lot of people mad. In a universe obsessed with linage fans felt let down by this reveal. However, Johnson believes that the seeds for this reveal were laid out in The Force Awakens and making her a nobody is more interesting on a character level.
It was hinted at in VII when Maz [Lupita Nyong'o] says the answers lay ahead, not behind, but it was something that was obviously still on Rey's mind and the audience's mind. It felt like a powerful thing that she was still holding on to this notion of the past defining her. And I guess I was entirely looking at it from a perspective of, what would be the thing that would be the most difficult for her to hear? The easiest thing for her to hear would be, "Yes, you are so-and-so's daughter," or, "Yes, here's where you fit into this. Here's the answer." The tougher thing to hear is, "You're going to have to stand on your own two feet. You're going to have to figure out what you're worth in this world yourself. Your place in this story is not going to be handed to you. You are going to have to find it." That to me was the most interesting and toughest thing for Rey.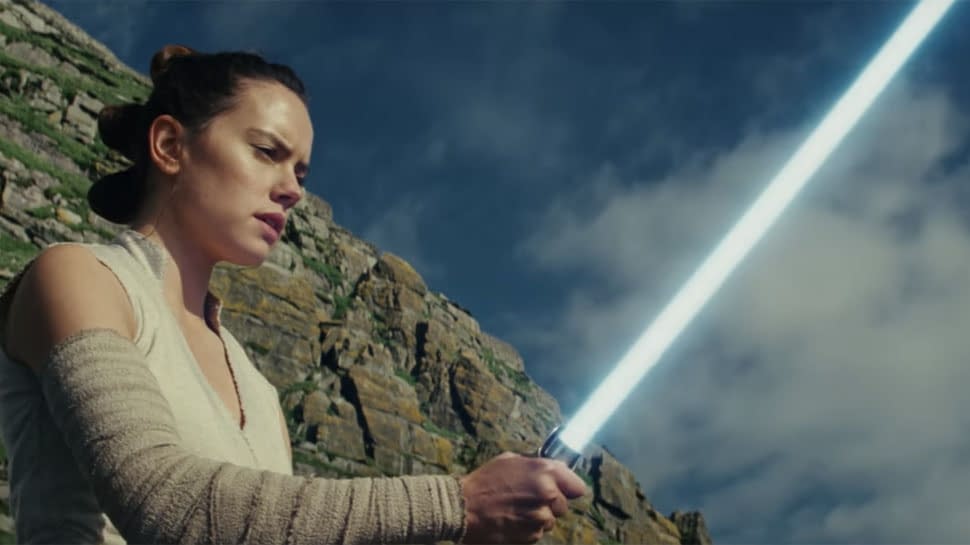 when Johnson was sitting in the premiere there were several moments he was really looking forward to seeing how the audience reacted. The moment when Rey and Kylo Ren team up to fight the guards was one of them but it wasn't that he was worried but more excited to see what people did.
That was a big moment I was looking forward to. But that was also a moment where the deck is pretty stacked. I wasn't holding my breath, "Is this going to play?" I felt like, "I can't wait to see an audience reaction to this." I was pretty confident in that moment. The [sacrifice] moment with Holdo was something I was holding my breath to see how the audience reacted, and I could not have been more thrilled with how the theater reacted to that big moment. And honestly, Kelly's final little moment with John, and then she passes out. There were so many moments I was holding my breath to see how the audience was going to react to it. Because this was the first time I was seeing it with an audience. I can't wait for opening night with a big crowd.
While J.J. Abrams could choose to change the direction they go with Rey's character in Episode IX the fact that she is a nobody is the story we have right now. If that changes then it does but, for now, this was the vision Johnson wanted and his reasons make sense even if you don't personally like them.
Summary: Rey develops her newly discovered abilities with the guidance of Luke Skywalker, who is unsettled by the strength of her powers. Meanwhile, the Resistance prepares to do battle with the First Order.
Star Wars: The Last Jedi, directed by Rian Johnson, stars Daisy Ridley, John Boyega, Mark Hamill, Oscar Isaac, Carrie Fisher, and Adam Driver. It's out now.
Enjoyed this article? Share it!