Chris Terrio, who co-wrote the screenplay for Star Wars: The Rise of Skywalker (TROS) with director J. J. Abrams, said not all of Carrie Fisher's repurposed scenes were used. Terrio spoke with The Wrap to explain the process of incorporating the late actor into the film.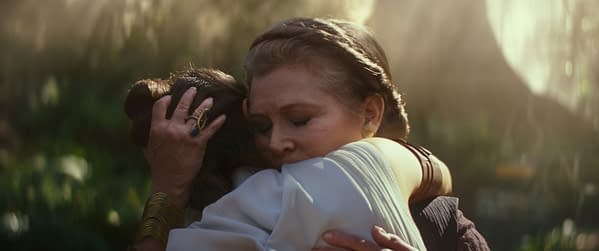 Respecting Carrie Fisher's Performance
Fisher, who died in December 2016, completed all her scenes for Rian Johnson's The Last Jedi prior. When Abrams, the director of The Force Awakens (TFA), replaced Colin Trevorrow, he said TRoS planned to repurpose Fisher's unused scenes from his film. Terrio said the first thing he and Abrams did upon writing the film was to determine how to complete Leia's story without Fisher.
Whatever footage used for TRoS, Terrio said there's still incredibly entire scenes that didn't make the final cut.
That was the very beginning of the process, sitting with Carrie's dailies, figuring out what could be used. What couldn't be used? Where will the eyelines work? How do we re-contextualize this footage to make it work with this new story? There is stuff out there. It may be on deleted scenes or something, but there are things that didn't quite make it in. In fact, one or two scenes I really liked that didn't make it in, but to keep the film moving, I totally understand the reasons why those things were cut. But there is certainly other glimpses of Carrie that didn't make it."
Star Wars Scenes Had to Match Tone
Terrio clarified they retained Fisher's original performance. They did not use dubbing or digital manipulation.
"Every time you see her speaking, that's really Carrie speaking. We didn't use any on-camera lines that she didn't say," Terrio said. "It was important to us that every time Leia says a line, it was really a line that Carrie said and that the way we created the scene around her, her acting intention was relatively intact."
Abrams and Terrio also made sure whatever context the scene called for in TRoS matched the tone originally shot in TFA. To both's credit, the late actor's scenes in TRoS worked due to clever editing and giving her scene partners more plot-specific lines.
The film also stars Daisy Ridley, Adam Driver, John Boyega, Oscar Isaac, Mark Hamill, Kelly Marie Tran, Anthony Daniels, Billy Dee Williams, Naomi Ackie, Domhall Gleeson, Keri Russell, Richard E. Grant, Lupita Nyong'o, and Ian McDiarmid.
The Rise of Skywalker is in theaters.
Enjoyed this article? Share it!