Suicide Squad: Hell to Pay – A Fun, Tarantino-Influenced Ride
I finally watched the DC animated feature Suicide Squad: Hell to Pay last night and I came away from it feeling kind of mixed. The film starred Christian Slater as Deadshot, who was sent on a mission by Amanda Waller (Vanessa Williams) to collect a special card. The team is made up of Bronze Tiger (Billy Brown), Captain Boomerang (Liam McIntyre), Harley Quinn (Tara Strong), Killer Frost (Kristin Bauer van Straten) and Copperhead (Gideon Emry). Everything else at this point is a spoiler…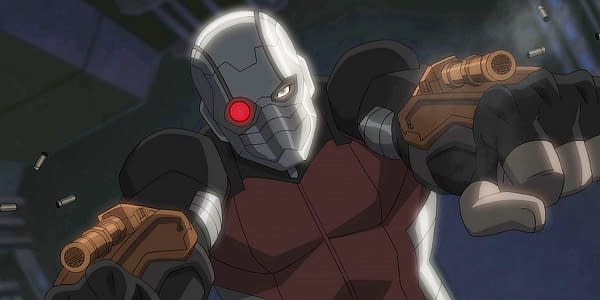 After a mission that involved Punch & Jewelee, Count Vertigo and Black Manta going with Deadshot to take out Tobias Whale, we find out that Waller has terminal cancer and wants this card, she send them after an exotic dancer named Steel Maxum (Greg Grunberg) who is also being hunted by Z00m (C. Thomas Howell), Silver Banshee (Julie Nathanson) and Blockbuster (Dave Fennoy). They have to save Steel and take him to the middle of nowhere and discover that for about 2 months, he was Doctor Fate. But while serving Nabu, he was seduced by Knockout (Cissy Jones) and Scandal (Dania Ramirez) who steel the card, which turns out to be a "Get out of Hell card". And this is where it gets interesting… Vandal Savage (Jim Pirri) wants the card and plans to have Professor Pyg (James Urbaniak) stitch it inside of him because Vandal is immortal, not invulnerable. Waller wants it because shes dying and Zoom wants it because this is actually a sequel to Flashpoint Paradox and he has the bullet wound in his head from when Batman / Thomas Wayne shot him and he's using the speed force to keep alive.
This is a Deadshot movie hands down with Bronze Tiger being the second character. But the truth is, this should've been called: Quentin Tarantino does the Suicide Squad. They refer to it as being a Grind House style film, but it's more than that. It definitely has the violence and gore level of a Grind House film, but that's what Tarantino always does. But some of the story elements are straight out of Pulp Fiction. The questions of morality, the use of the card as a plot device… it's not a McGuffin because what the card is does matter at one point in the film… the multi party aspect of the story and the betrayal on top of betrayal. It feels like someone sat down and watched a Tarantino marathon then started outlining the story.
Overall the movie is interesting, there are some fun twists and Slater makes an decent Deadshot. You almost feel sorry for Zoom and you wonder how Bronze Tiger isn't a more popular character. Harley Quinn and Copperhead are pretty much just comic relief. Boomerang and Killer Frost play important enough rolls though and there was a huge body count in the film. A dozen named DC villains killed off in one film. And it would seem like a one off, except the tie in to Flashpoint Paradox. And the strangest thing of all is that there is a moment of nudity that wasn't needed. Almost as if there was a checklist of things they had to have to make it a Grind House film and they were missing nudity, so they through in a glimpse to cover all bases.
I like that DC goes outside the box sometimes and does unique things. I enjoyed watching the film… but it really did feel like they were borrowing a bit too much from Tarantino at times.