Warner Bros. has released the details of Superman: Man of Tomorrow on 4K Blu-ray, Blu-ray, and digital combo packs everywhere on September 8th. The film tells a new version of the story of Superman, with some modern twists to the tale. The film features a stellar voice cast, including Darren Criss as Superman/ Clark Kent, Zachary Quinto as Lex Luthor, Alexandra Daddario as Lois Lane, Brett Dalton as Parasite/Rudy Jones, Ryan Hurst as Lobo, Ike Amadi as Martian Manhunter, Neil Flynn as Jonathan Kent, Bellamy Young as Martha Kent, Cristina Milizia as Maya, Petey & Kaylie, Eugene Byrd as Ron Troupe, April Stewart as Mrs. Ross, Piotr Michael as Perry White, Cissy Jones, and David Chen. You can check out the cover and features list for the Blu-ray down below.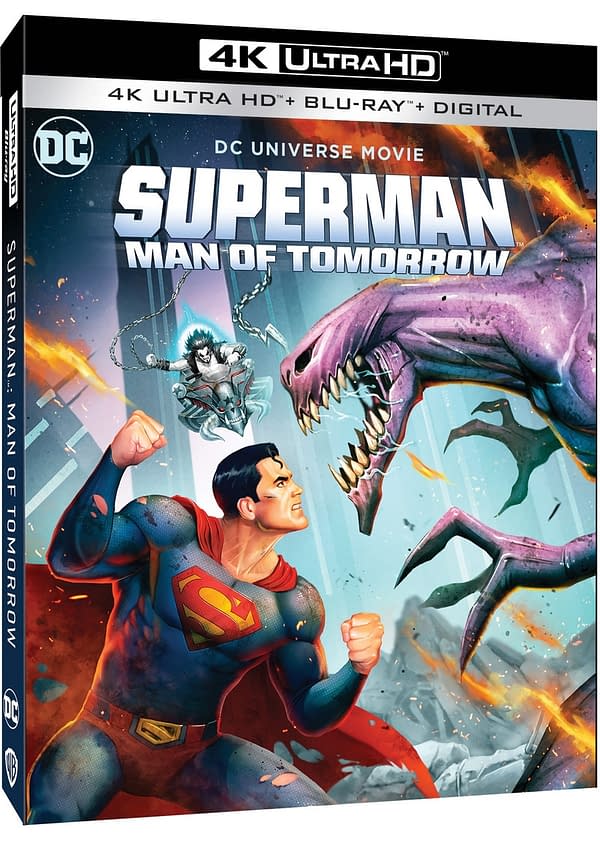 Superman: Man of Tomorrow Special Features
Lobo: Natural Force of Chaos (New Featurette) – He's the rude, crude, galactic bounty hunter who has been more than a thorn in the side of DC's greatest heroes. This is a full throttle look at Lobo.
Martian Manhunter: Lost and Found (New Featurette) – This is the personal journey of J'onn J'onzz. A stranger in a strange land who emerges from the shadows as a force for peace and justice.
Look Back: Justice League vs. The Fatal Five (Featurette)
Look Back: Superman/Batman: Public Enemies (Featurette)
From the DC Vault: Superman: The Animated Series, "The Main Man, Part I"
From the DC Vault: Superman: The Animated Series, "The Main Man, Part II"
Movie trailers:

Justice League Dark: Apokolips War
Mortal Kombat Legends: Scorpion's Revenge
Superman: Red Son

A Sneak Peek at the next DC Universe Movie – An advanced look at the next animated film in the popular DC Universe Movies collection.
Optional English, Spanish, and French subtitles for the main feature
Enjoyed this article? Share it!