UPDATE- Terry Gilliam Suffers Stroke, Amazon Pulls Distribution For 'Quixote'
Monty Python member Terry Gilliam has reportedly suffered a stroke, but is currently at home after being released from the hospital. The report comes from a French newspaper (which google translate hasn't done the best job of).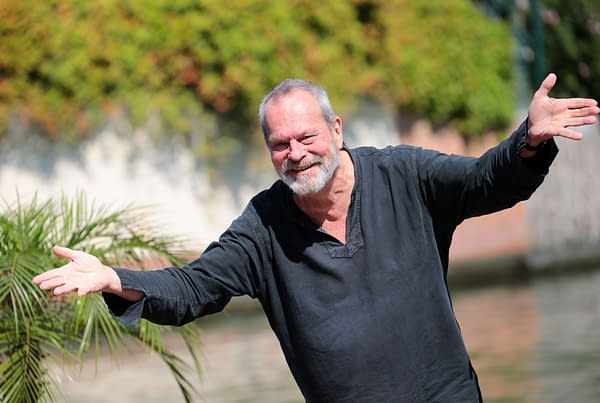 Filmmaker Gilliam has been waiting to complete his 20 year plus film odyssey The Man Who Killed Don Quixote for…..well, 20+ years. The finish line is in site, with the Paris District Court announcing on whether or not the film can screen at Cannes on May 19th. Gilliam was expected to appear, but for obvious reasons, was unable to.
Former Quixote producer Paulo Branco, who's claimed ownership of the film's rights since 2016, had filed to prevent the film from screening during the festival on the closing night. While the French court has previously sided with Branco on other matters, Cannes did release a statement in support of Gilliam.
And as I was in the process of reporting on this, it looks like Amazon has pulled their distribution for the film, as they are no longer handling the US release. At least according to IndieWire, who claim an inside source with the knowledge.
The current information about Gilliam's condition limited, we do understand that he is home, "resting". The decision as to whether or not the film will be allowed to screen will happen sometime on Wednesday. And it's unlikely the 77 year old filmmaker will be well enough to travel if the jury rules on his side to see his long-fought for film screened.
**UPDATE**
There is now a statement from Gilliam's camp, which states: "Whilst we don't comment on personal health matters, we can confirm that Terry Gilliam is currently at home preparing for his trip to Cannes next week in support of The Man Who Killed Don Quixote."
This comes after Cannes announced that they WILL allow the film to screen during their Film Festival, so we're assuming the French Court ruled in Gilliam's favor. The official ruling will not be made available to the public until this afternoon.
**UPDATE x2**
Terry has posted this on his facebook, he looks pretty good:
**UPDATE x3**
In a new article from Deadline, the outlet says they've spoken to exec producer Jeremy Thomas, who said that Gilliam was "taken ill over the weekend, in part due to the stress around the movie, but he is now recovering well in London and will be in Cannes for the film's premiere on Saturday".
At last, the quest is nearing completion.