007 Bond Binge: Thunderball: Sharks, Femme Fatales, and Lawsuits?
Thunderball (1965) remains the most successful movie of the James Bond franchise to date. Its domestic box office haul of $63.6 million, adjusted for inflation, is $573.7 million. That beats every single other movie of 2019 with the exception of Avengers: Endgame's record haul. Because of its enormous success, producers would continually go back to its well and have ended up drawing from its plots multiple times. But this success also became a double-edged sword, inviting lawsuits from one of the screenwriters, which led to a strange odyssey, including the eventual rogue James Bond film Never Say Never Again in 1983. But, filmed in Panavision and winning the Academy Award for Best Visual Effects, the movie set a high standard for visuals the series would rarely return to.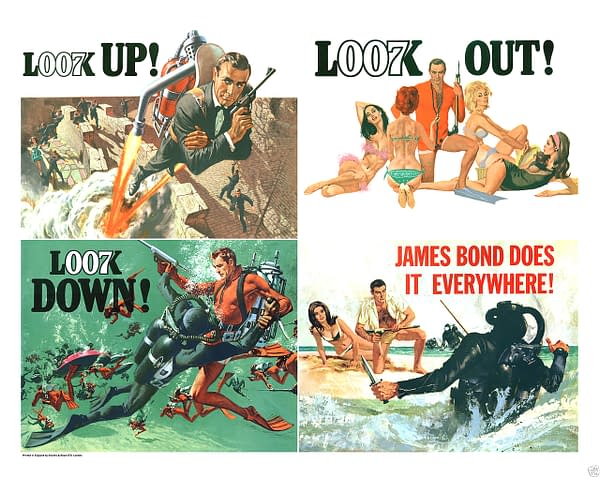 In a pre-credits sequence, Bond (Sean Connery) famously escapes a scrape with the use of a jet pack. Ironically, as fake and weird as this scene is, the jet pack was a real piece of technology developed by Bell Aircraft and piloted by a trained pilot in the sequence rather than Connery. Who only appeared in close-ups thanks to some not-great-looking green screen.
The main plot of Thunderball involves Emilio Largo (Adolfo Celi), who is the #2 operative at SPECTRE, stealing two nuclear warheads from the British Royal Air Force and using them to hold the world hostage. Bond stumbles onto the scheme while recuperating at a health spa, a sequence that is highly amusing for a trip down memory lane of 1960's "health" and exercises quackery.
Following a trail to the Bahamas and Largo's estate, Bond is introduced to Largo's ward, Domino (Claudine Auger), and the three engage in numerous scenes of double-entendre banter. The fun of these scenes is Bond knows who Largo is, Largo knows who Bond is, but neither can take action against the other just yet. When Largo's favorite method of dispatching his foes– feeding them to his personal collection of sharks– fails to kill Bond, he and SPECTRE deploy one of their other top assassins, Fiona Volpe (Luciana Paluzzi) to take him out.
Of course, because it's Bond, they end up sleeping together first, with James then claiming post-coitus that what he did was "for Queen and country" and derived no pleasure from it. Suuuuure, James. Unfortunately, Volpe then follows the tradition, set by Goldfinger, of other Bond "first girls" dying soon after sleeping with Bond by being unceremoniously killed by Largo's other assassins. Both she and an all-too-underdeveloped MI-6 assistant named Paula are fridged for James Bond's continued storyline so that he can end up with the final girl Domino.
The film culminates in a giant underwater battle between SPECTRE's forces and American frogmen in the scenes the film is probably best remembered for. While spectacular in many ways and considering all of these were done practically without any CGI, the (incredibly long) sequence has not aged particularly well. It's slowly-paced, but it's also hard to imagine a much more kinetic or exciting version of this sequence that still remains grounded in using actual tech like spear-guns and knives.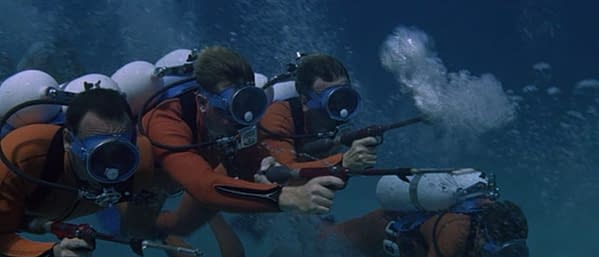 Legal Hurdles for Bond
But some of the most interesting pieces of James Bond lore come not from onscreen but behind the scenes of this film. Thunderball was initially intended to be the first James Bond film. Ian Fleming, the author of the Bond novels, hired Kevin McClory and Jack Whittingham to collaborate on an original screenplay. Fleming then adapted the screenplay into the novel Thunderball, publishing it without any attribution to Whittingham and McClory, who then sued. After settling out of court, the novel Thunderball was attributed to being based on a screenplay by the trio.
So when Bond producers and Eon Productions co-owners Harry Saltzman and Albert Broccoli went to adapt it into a film, there were continued legal wranglings. According to the court, McClory retained some portion of the cinematic rights to not only Thunderball but other elements of the Bond cinematic universe. He claimed he either invented or popularized characters like Ernst Stavro Blofeld, seen briefly, from the neck down only, presiding over a SPECTRE meeting in Thunderball and murdering one of his failed agents in a, particularly iconic scene.
In order to avoid further legal disputes, McClory was made a producer on Thunderball, and while the screenplay was attributed to Richard Maibaum and John Hopkins, it was "Based on a story by Ian Fleming, Kevin McClory, and Jack Whittingham."
Unfortunately, the film's financial success did not make things better for the legal issues, but much worse. Especially given how Thunderball became a sort of template for future Bond films (and Blofeld's status as the franchise's "Big Bad" for much of the next decade), McClory successfully tied up the Bond producers in court for decades, demanding more money and more credit.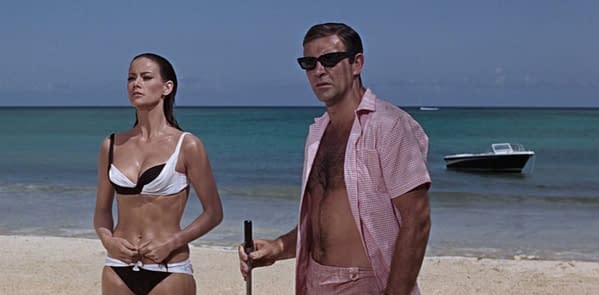 An eventual settlement gave McClory rights to many of the characters, including Blofeld, and the rights to make as many Thunderball remakes as he wished. He eventually did, resulting in 1983's Never Say Never Again, also starring Connery in his return to the role after Roger Moore had already been playing Bond for over a decade.
Bond's producers responded to losing the lawsuit with a giant middle-finger to McClory in the pre-credits sequence to For Your Eyes Only. This is where Bond picks up an unnamed wheelchair-bound man stroking a cat, highly implied to be Blofeld (but never mentioned by name for legal reasons), and dropping him unceremoniously down a chimney because this is how adults behave with film franchises.
Thunderball as The Bond Film
Regardless of the weird legal issues, Thunderball remains one of the most influential and popular of the Bond franchise. But if No Time to Die makes $580 million, it could dethrone Thunderball as the box office king. But that's going to have to be some movie.
Thunderball is iconic for all the right reasons. Sean Connery, as James Bond, was rarely better. Both Largo and Volpe remain iconic nemeses for numerous reasons. Much of Largo's look, specifically the eyepatch and white linen suit, would eventually be copied by Mike Myers to create his "#2" character in the Austin Powers series.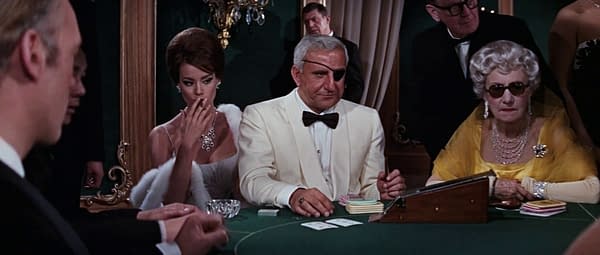 And Volpe is just one of the classic femme fatales of all cinema, doing so much with so little. Given very little screentime, she is still the best part of the film. And the film, for better or worse, took the tropes established in the past few films and cemented them. Given its outsized financial success, the Bond producers would then use Thunderball as a template over and over for future films.
For previous 007 Bond binges, please see: