The Bride, the 1985 re-imagining of the Bride of Frankenstein starring Sting and Jennifer Beals, is getting a new special edition blu-ray release from Scream Factory. A cult classic if there ever was one (maybe not even really), the film will come with a new director's commentary from Franc Roddam and interviews with him and actor Clancy Brown. Nothing from Sting or Jennifer Beals form the looks of it unfortunately. This one hits stores on September 25th, and can be preordered right here. If you preorder from them now, you get it two weeks early!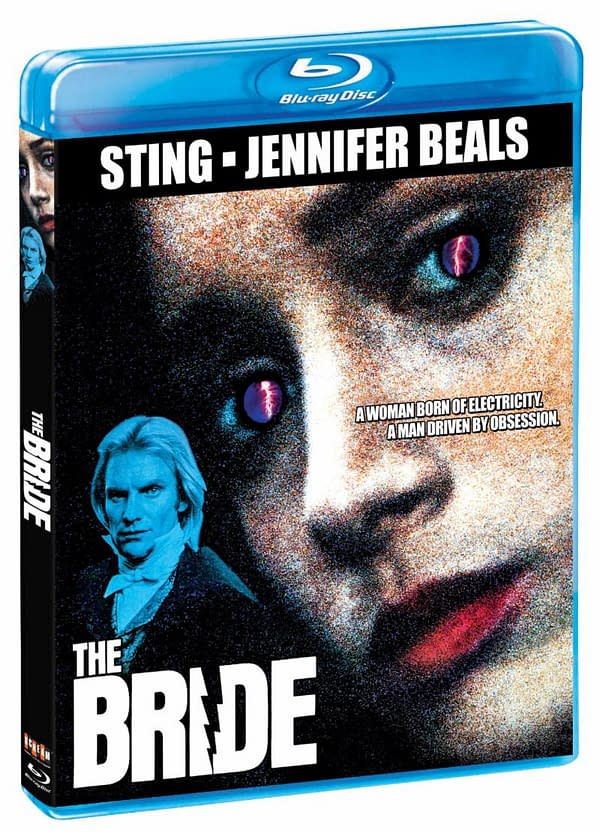 A woman born of electricity. A man driven by obsession. Scream Factory proudly presents

The Bride

on Blu-ray on September 25, 2018. The electrifying 80s remake of The Bride of Frankenstein comes to the Blu-ray for the first time in a release complete with new bonus features, including new audio commentary and interviews with director Franc Roddam and actor Clancy Brown.

Frankenstein builds the perfect woman — and lives to regret it — in this tantalizing marriage of horror, romance, and unbridled passion! Rock legend Sting plays the cunning scientist and Jennifer Beals (Flashdance, The L Word) lends her dramatic presence as his supreme, sublime creation. This sumptuously gothic tale, inspired by the indelible themes and characters originally brought to life by Mary Shelley, follows Frankenstein's creations as they search for their place in the world — the gorgeous Eva by declaring her independence, and her grotesque intended mate Viktor (Clancy Brown, Highlander) by learning self-worth from a compassionate circus dwarf (David Rappaport, Time Bandits). Can Dr. Frankenstein survive when the monster returns to claim his intended? Alive with brilliant photography and lavish costumes, The Bride invites you to a wedding night you'll never forget.

Special Features:

· NEW Audio Commentary With Director Franc Roddam

· NEW Interview With Director Franc Roddam

· NEW Interview With Actor Clancy Brown

· TV Spot
Enjoyed this article? Share it!