"The Grudge': Have Some Terror With Your Coffee, New Red Band Trailer
The Grudge reimagining hits theaters on January 3rd, and there is a new red band trailer on the interwebs. Lin Shaye is the focal point of the trailer, which is more like an extended clip form the film. Watch below as she acts freaky and makes weird noises before debuting a laugh that will stay with you for days (NSFW obviously):
Once you enter, The Grudge will follow you home. Watch the new red band trailer now and don't go alone to theaters January 3.
Producer Sam Raimi brings us a twisted new take of the horror classic. Directed by Nicolas Pesce, THE GRUDGE stars Andrea Riseborough, Demián Bichir, John Cho, Betty Gilpin with Lin Shaye and Jacki Weaver. With a screenplay by Nicolas Pesce and a story by Nicolas Pesce and Jeff Buhler, THE GRUDGE is based on the film "Ju-On: The Grudge" written & directed by Takashi Shimizu. THE GRUDGE is produced by Sam Raimi, Rob Tapert and Taka Ichise and is executive produced by Nathan Kahane, Erin Westerman, Brady Fujikawa, Andrew Pfeffer, Roy Lee, Doug Davison, John Powers Middleton and Schuyler Weiss.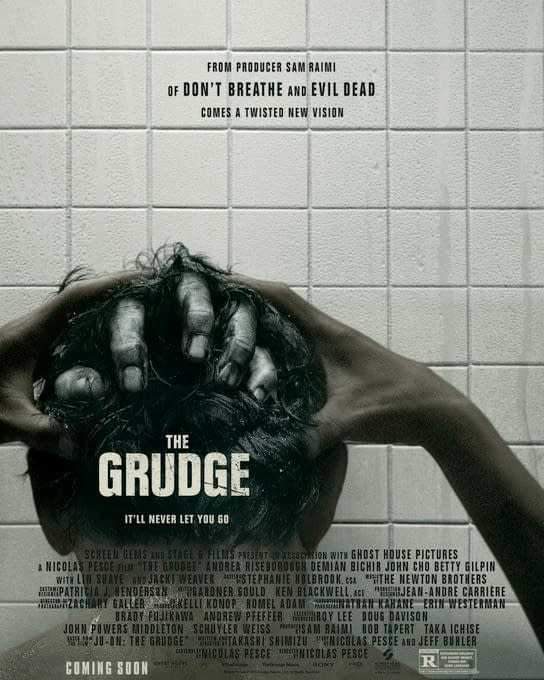 The Grudge, directed by Nicholas Pesce, and starring Andrea Riseborough, Demián Bichir, John Cho, Betty Gilpin, Lin Shaye, and Jacki Weaver opens in theaters on January 3rd.