There aren't many shows that surprise me. Please or disappoint is far more common. In a batch of shows that started in the last few months I was pleased by both The Shannara Chronicles and DC's Legends of Tomorrow and have been most disappointed in Lucifer. The one I was unsure of was The Magicians.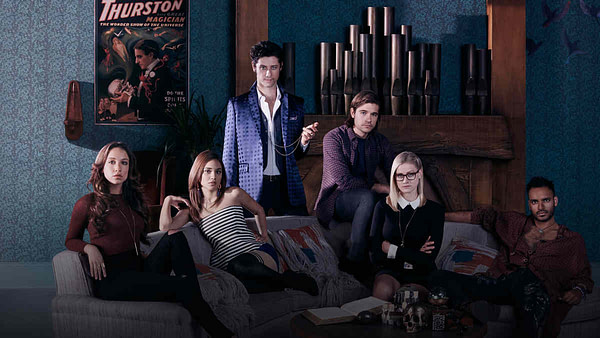 Based on the novels by Lev Grossman, The Magicians follows a young man named Quentin Coldwater as he is accepted into a special university called Brakebills that specializes in teaching magic. And I'm betting a lot of you just said, "Oh, a Harry Potter rip-off… thanks but no thanks." I know you said that because that was my feeling going into the series. But this show is probably best described in the metaphor of an onion that has layers upon layers upon layers once you get past the ordinary looking surface.
Quentin is someone who, in his own words, has a broke brain. The show starts with him having checked himself into a mental institution. He can't deal with the hopelessness of the world and often finds solace in a series of children's books about a magical world called Fillory. His best friend growing up, Julia Wicker, loved the books as well but has put them aside now that she is an adult. She is ready to go on to Harvard while Quentin seems to be circling the drain of life. His entrance exam for college went very strange as he found his instructor dead and a package with the unpublished sixth Fillory book with his name on it at the scene.
Both Quentin and Julia end up finding their way to Brakebills where they are given a test to see about the magical aptitude. Neither really believing that magic exists, Quentin is accepted while Julia is rejected. But the wiping of her mind fails and she goes back out into the world knowing that magic is real and that she won't be taught how to use it. Now Quentin has found a place he feels normal and a purpose in life while Julia's entire world has been destroyed.
This is the set up for a series and that is just the tip of the iceberg. Quentin finds friends and even love exist for him, but that there is also an overwhelming danger that no one seems prepared for. While Julia goes through the equivalent of magic withdrawals and making a lot of bad choices to feel the power again. The two friends are on very different trajectories.
The show also introduces us to some interesting characters like Alice Quinn, a super smart self taught magician who is obsessed with finding out how her brother died. Penny Adiyodi, a street wise traveler with a chip on his shoulder and a hatred for everyone. Eliot Waugh a self-made aristocrat with a dark side and more power than expected. This are all allies, in some cases uneasy allies, of Quentin's which he will need.
We learn very early on that there is far more going on with Quentin and Penny, a sense of urgency to turn them into magicians because of a very bad thing coming. We meet The Beast in the first episode and learn of his ties to Fillory and how the magical literary world is actually real.
The thing that works for this show the best is that it is constantly driving towards a point or event that seems obvious and then veers away at the last minute in a way that you wouldn't expect. It's like the writers ask themselves what would be the last thing they should do and then do that. The first episode had be intrigued, the second was okay and by the third I was just about to check out. During the fourth episode there is a song / dance number that is so out of the blue that you're not sure what you are actually watching and then by the end of that episode you realize that everything is connected. There aren't any throw away moments are comments. From there things start getting darker and more twisted and by last night's ninth episode and comparison to Harry Potter is long gone as the show takes the nasty turn of all. This series is a slow burn and that may work against it. Those first few episodes seem light and a bit silly, but once the switch was flipped, things took off. Julia's path of desperation is wrenching to watch as she loses everything all in an effort to get back that spark of magic in her life. While Quentin is finally given hope that he belongs and that he might find a purpose and happiness only to receive a gut punch from reality.
If you haven't given this show a chance yet, or if you did and bailed before the fourth or fifth episodes, then you should consider checking it out (again). There are four more episodes this season and it's already been renewed by Syfy for a second 13 episode season in 2017.