The Red Sonja Film Is Making A Major Change To Her Backstory
Red Sonja director M.J. Bassett talks about the significant change they are making to the titular character's backstory for this big-screen adaptation.
---
To say that Red Sonja has had some hard time in development hell would be a disservice to the word. This is a film that various studios have been trying to get off of the ground since 2010 with mixed results. Every time it seemed like they were on the right track, something would happen, and everything would fall apart. It's almost legendary at this point and even the people currently working on the film that is set to come out acknowledge that it has been a very long road to get here. We don't have a release date for the movie yet, and some of the details are still a little thin, but things are starting to come out. The Hollywood Reporter did a large story on the film talking about the road it had to take to get here and the journey the current creative team is on. Director M.J. Bassett spoke about the script and one of the major changes they are making. In her origin, Sonja is captured and raped, and Bassett decided that she would not use rape as a tool for motivation in this movie.
"I have no interest in fictional women who use [rape] as an engine of motivation," she says. "It's not a strong motivation. She's just a human being in the world of femininity."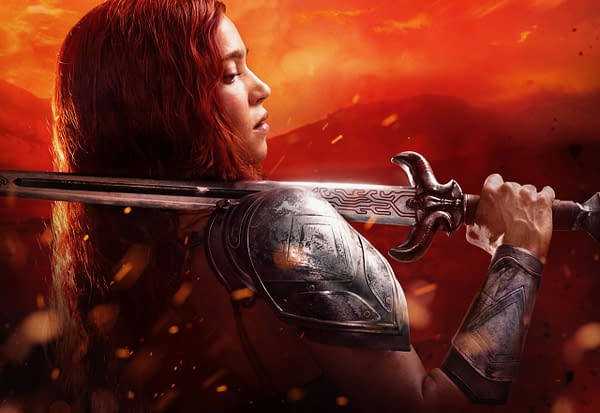 Bassett went on to say that she didn't connect to the previous versions of the Red Sonja script, which leaned very much into gender and sexual politics. However, that wasn't something that she was interested in pursuing as a storyteller.
"I didn't warm to the previous script, which was much more sexual politics," she says. "Obviously, in my personal life, I'm interested in that. But as a storyteller, I don't think it's interesting."
If you're wondering where the story will go, if it's not going to have anything to do with gender or sexual politics, or if you're thinking that Red Sonja isn't going to have a thought in its head, then that isn't the case as well. Bassett acknowledges that it is an "oxymoron" to try and tell a "story about a female hero imprisoned by misogynistic portrayals for decades" without acknowledging gender or sex. Instead, Bassett is turning her focus on something else that is impacting everyone just as much as the patriarchy; climate change and making "Sonja's journey to be an allegory for more existential questions around the survival of the species in the face of climate change." This film isn't exactly working with a massive budget, so what we're going to be getting isn't the type of comic book film we are used to from Marvel and DC. Instead, this will be a completely different animal crossing that theatrical finish line with 15 years of baggage for Millenium Media. We'll just have to see if the final product is worth the wait.
Red Sonja: Summary, Cast List, Release Date
Enslaved by an evil tyrant who wishes to destroy her people, barbarian huntress Red Sonja must unite a group of unlikely warriors to face off against Dragan The Magnificent and his deadly bride, Dark Annisia. Based on the best-selling comic series.
Red Sonja stars Matilda Lutz (Revenge) in the title role and also features Wallis Day (Sex/Life, Batwoman) as Annisia and Robert Sheehan (The Umbrella Academy, Misfits) as Draygan. Additional cast includes Michael Bisping (xXx: Return of Xander Cage) as Hawk, Martyn Ford as General Karlak (F9: The Fast Saga, Final Score), Eliza Matengu (Thor: Love and Thunder) as Amarak, Manal El Feitury (Code Red) as Ayala, and Katrina Durden (Doctor Strange, Shadow and Bone) as Saevus. M.J. Bassett (Solomon Kane) is directing with the script written by Joey Soloway (Transparent) and Tasha Huo (Netflix's Tomb Raider). It's currently in production and doesn't have a release date.