To say that the road for Indiana Jones 5 has been rough might be an understatement. When Disney announced that they were buying Lucasfilm in 2012 they weren't just taking control of the Star Wars brand but the Indiana Jones brand as well. When Harrison Ford signed on to do more Star Wars movies he also signed on to do another Indiana Jones. That was about the last time anything has gone well for this movie. Since then it has been delayed again and again to the point where it's almost becoming a joke. The movie is currently set for a 2022 release date and was supposed to start production this summer but there is a good chance that isn't going to happen with the ongoing COVID-19 pandemic.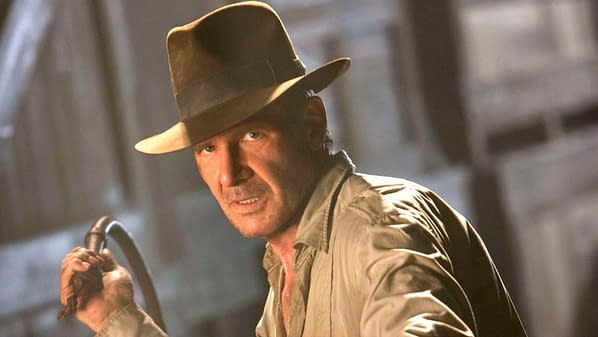 Collider got the chance to speak to producer Frank Marshall and said of the script for Indiana Jones 5: "It just started". The movie did just pick up a new director with James Mangold and it isn't uncommon for directors to put their own spin on scripts. Fans are likely a little nervous that Steven Spielberg isn't behind the camera and Marshall is here to assure them that Mangold has nothing but love for the franchise.
"His love of the franchise. He's a wonderful filmmaker. I think he also has a relationship with Harrison. It was all of the right pieces coming together, at the right time."
While Spielberg isn't directing that doesn't mean he isn't going to be involved as Marshall went on to reaffirm that "Steven is staying on as a producer, so we've got the best of everything" which is what we learned when Spielberg first stepped down. While the pieces of Indiana Jones 5 are starting to come together, finally, we shouldn't expect anything to get off of the ground because of COVID-19. Everyone involved with the production wants a safe environment for all involved. This isn't going to be a short production either and if they don't have a script or a production start date? Well, that 2022 release date isn't looking that likely.
Enjoyed this article? Share it!