Those Doctor Who Missing Episodes Rumours Take A Licking But Keep On Ticking There was a Doctor Who-related dinner-party held a few weeks ago, in which guests were told that two of the guests had signed NDAs and most definitely wouldn't discuss anything regarding missing episodes and not to bring it up.
More and more, I'm hearing reports that people have signed NDAs about… something regarding returning episodes of Doctor Who to the BBC. It could be ninety, it could be three, it could be ninety-three, but something is in the air. The BBC have done a fine line in non-denial denials
However some people clearly don't take a blind bit of notice of NDAs and are happy to keep gabbing about it, as long as they think it's in private. Such as one person heavily associated with the Who production team saying to radio engineers that he's sure at least forty episodes are with the BBC right now. Or another stating that the number is up to 93, with only Mission To The Unknown, nine episodes of Dalek Master Plan, one episode of Ice Warriors and one episode of Wheel In Space remaining lost (though that would mean 94 recovered). And that we are to look for a BBC4 screening of The Web Of Fear on 50th Anniversary week, of which five episodes of six are believed lost, features The Great Intelligence and Colonel Lethridge Stewart. And a release for Enemy Of The World.
But right now, it's all just talk. No actual evidence. Some have criticised Bleeding Cool heavily for running this story. But as one person told me, it's one thing to run fanciful rumours being spread by fans, it's another to run fanciful rumours being spread by members of the Doctor Who production team.
I have no idea if any of them are true. But that last aspect is, in itself, what has made this story fascinating.
As for the casting of The Thirteenth Doctor, I still hear Daniel Rigby, one well-connected Doctor Who fellow at San Diego told me he had put money on Daniel Kaluuya from Skins, and I'm still hearing Ben Daniels, though I'd also heard that there were personal issues that might have prevent him taking the role after it was offered.
It is weird that all these folk have "Daniel" in their name, as if it's one rumour splitting, changing and evolving… so what about Daniel Day Lewis? Daniel Craig? Daniel Radcliffe?
And that's another thing. We got a mention in the last episode, that can't have been an accident… so who is going to play The Valeyard? Michael Jayston is still around you know… "tense, nervous headache?"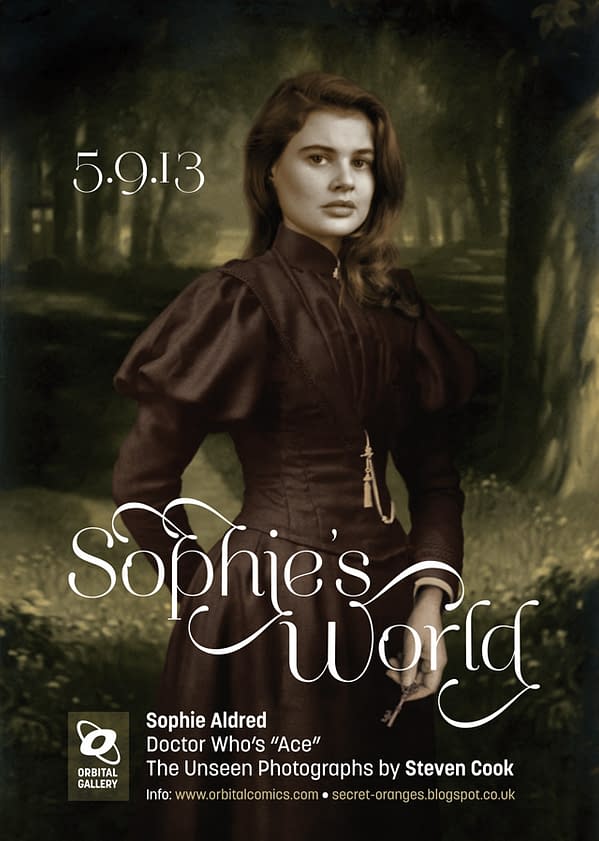 Oh, and since we're talking Doctor Who, how about a plug for comic book industry figure and friend of Bleeding Cool, Steve Cook.
Sophie Aldred
Doctor Who's "Ace"
The Unseen Photographs
by Steven Cook

September 5th – September 30th 2013

Celebrating the 50th Anniversary of DOCTOR WHO, an exhibition of recently discovered photographs of the Doctor's much-loved companion ACE. Sophie will be signing on Saturday, Sept 7th, 12pm – 3pm. Orbital Gallery, 8 Great Newport St. London. WC2H 7JA.
His Sylvester McCoy portrait also became a part of the DOCTOR WHO: REGENERATION limited edition coffee table book-styled collectors' album.