The Trailer For Guillermo Del Toro's 'The Shape Of Water' Is Coming Soon
Guillermo del Toro could really use a hit. While all of his movies are usually critical well received he has a hard time getting the audience to show up. Del Toro has a new coming out this winter but we know virtually about it. We have a logo and some brief descriptions but nothing so far.
It's looking like that's going to change soon. According to Trailer-Track the first trailer for the movie should be coming soon.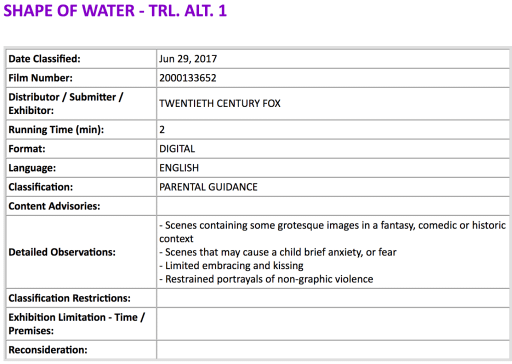 The current guess that it will be attached to the upcoming War for the Planet of the Apes. Del Toro posted on twitter last month that it was coming "soon" but only after it premieres in theaters and is then released online.
If War for the Planet of the Apes is the movie in question we should see the trailer drop either the night of the 13th or the morning of the 14th.
The Shape of Water is being described as "an other-worldly fairy tale, set against the backdrop of Cold War-era America circa 1963" which sounds so up del Toro's ally. It has a rough release date though coming out a week before Star Wars: The Last Jedi. If there is any justice in the world, and the movie is good, it will open strong that first weekend and hang out in the top three for a little while. Del Toro works hard and really deserves a hit.
In the hidden high-security government laboratory where she works, lonely Elisa is trapped in a life of silence and isolation. Elisa's life is changed forver when she and co-worker Zelda discover a secret classified experiment.
The Shape of Water, directed by Guillermo del Toro, stars Sally Hawkins, Octavia Spencer, Michael Shannon, Richard Jenkins, Michael Stuhlbarg, and Doug Jones. It will be released on December 8, 2018.