New NIN Song Releases and Trent Reznor Talks New Album Bad Witch
Trent Reznor isn't just the frontman of the industrial rock band Nine Inch Nails — he's also an Oscar-winning composer. As a longtime fan of the band, I was as shocked as anyone that Reznor won along with co-composer Atticus Ross for The Social Network, but seeing someone deserving win is always cool.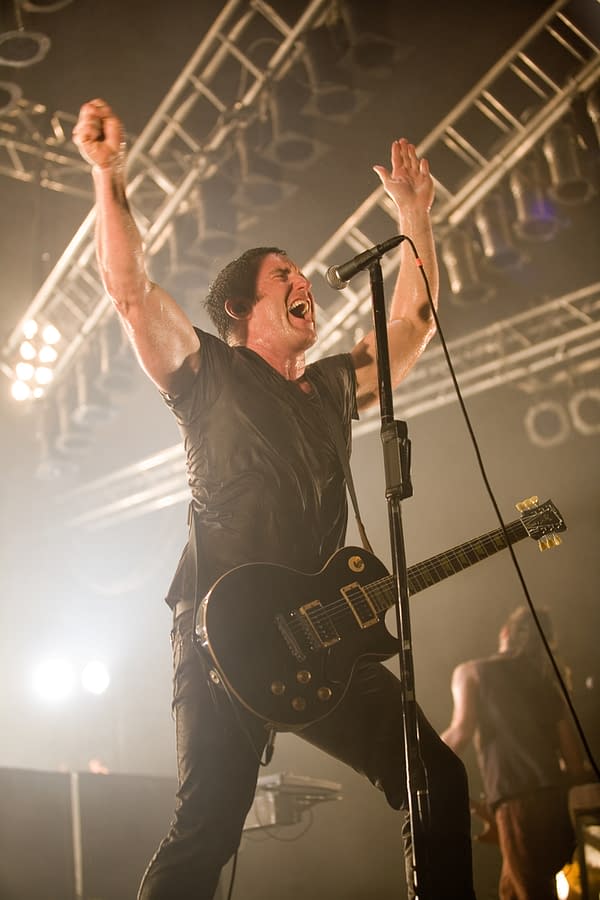 On June 22nd this year, NIN will release a new EP called Bad Witch, which goes along with 2016's Not the Actual Events EP and 2017's Add Violence EP, completing an aural trilogy. The first song from Bad Witch was released yesterday, titled 'God Break Down The Door':
It's got that classic NIN sound, but also SCREAMS a David Bowie influence. Nothing wrong with that, as our dearly departed Starman worked with the band several times. Reznor even credits Bowie with saving his life during Bowie's Earthling album.
In a recent interview with Zane Lowe, Reznor talked about this new track, as well as the album's influence and the upcoming tour. (transcription provided by NIN's representatives, first reported by Consequence of Sound):
"We find if we don't watch ourselves we tend to try to get somewhere comfortable, because it feels better. And from the sound of the drums to the kind of frantic drumbeat to looking around the studio and seeing the untouched baritone tenor and alto sax that are sitting there. They're there because they remind me that I can't play them as well as I used to be able to.

For 20 years, I've been saying I'm going to really get my technique back because it would be fun to do. And there they sit taunting me in the corner. We pulled them out and we just started fucking around really, led with Atticus [Ross] arranging. I was just kind of going, an hour performance kind of turned into this thing that felt like we hadn't been there before and that started to reveal a whole different character. The space changed and then we felt motivated. When it came time to sing I was really just trying things out, just to see.

I never had the courage to sing like that, I didn't know I could sing like that."
Speaking about the completion of the EP trilogy, Reznor said:
"Let me drop some cryptic information on you. The idea of this three EP thing was all too find truth in us figuring out who we are now and how we fit into the world. The first EP, Not the Actual Events, was meant to be from a personal angry self-destructive of reflection on that question and defining how I feel in a world, it feels stranger, part of that's aging. Part of that's because the world is getting weirder. Finding your place in a world that looks different every day little bit changes and reacting to that in the first EP through anger and self-destruction and sitting alone setting a match to your life.

The second EP, Add Violence, was meant to the same question. But looking for answers externally. Maybe it's because of this and there's comfort in that. Maybe there's a reason things feel kind of crazy and it's not that I'm insane that I'm in a situation that's insane.

There was the third EP which has grown into an LP (Bad Witch). It was coming to one final look at that question from rejecting what EP No. two says, and it wasn't an easy answer… The entire system has a much more bleak and pessimistic outlook and I want to say too much because it gives away kind of the what the thing is. But it wasn't necessarily what we thought it was going to be when we started. I thought it was going to go more science fiction. I don't really want to overwhelm you with cleverness and deep diving and part of that felt like an arms race and it also felt like a cop out."
As for the upcoming tour (tickets go on sale tomorrow morning and are ONLY available in person, a strange throwback choice in a digital age) The Jesus and Mary Chain are on board as tourmates. If you look at the locations for the tour stops, you'll notice they're decidedly smaller than what we're accustomed to seeing NIN sell out. Trent explains how this choice was inspired by LCD Soundsystem:
"We felt largely inspired by LCD Soundsystem's show at the Palladium. You know they could've played at the Forum but chose to play a bunch nights in a smaller room and we went there and we left talking about it for a week," Reznor explained.

"We like LCD but we were blown away by it, it just felt good and it was exciting and it was right there and everybody was into," he added. "We thought we want to do something in the world of that, where it feels like if you get in to see the show, you get a unique experience."
You can listen to rest of the short yet informative interview here: