Umma Review: Sandra Oh Shines in Generational Horror Classic
Carrying family burdens is a generational problem, particularly within Asian culture, and it isn't more pronounced than Iris Shim's Umma ("Mother" in Korean). Sandra Oh plays Amanda, a Korean mother living a quiet life with her daughter (Fivel Stewart) on an American farm as beekeepers. One day, she gets a familiar visitor (Tom Yi) representing an estranged family member, in this case, her deceased mother (MeeWha Lana Lee). After getting her effects and remains, Amanda is forced to confront her past and her dysfunctional relationship with her mother.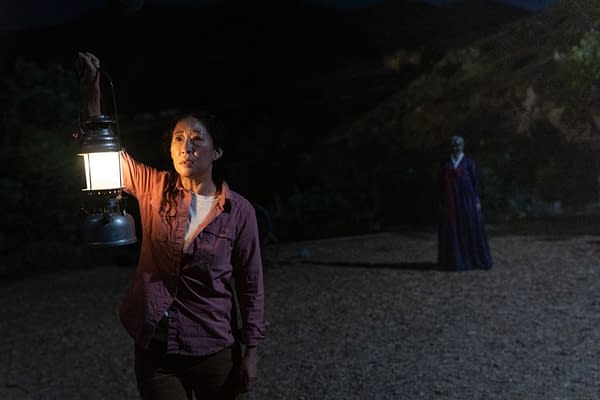 Shim does a great job in Umma conveying mother-daughter relationships, and it's a testament to Oh and Stewart's performances. With Oh carrying the bulk of the dramatic weight, we see her carry her character's regrets, past trauma, and extending those insecurities to her purposely sheltered daughter, who she won't even allow to have her own phone. The narrative to keep her daughter shelter comes from her insulated fears. The chemistry between the two is predicated on the combination of solitude and the slow mental breakdown from Oh's character. It's a difficult feat to achieve outside of someone of Oh's talent. Given the title, it's a supernatural thriller of a more haunted house/mystery trope. Produced by Sam Raimi of Evil Dead and Drag Me to Hell, you definitely see the cerebral aspects picking away in Amanda and, at times, by proxy in her daughter. The more haunting moments are also on brand in their slow build as you see Oh caught up between the real world and the spiritual. I enjoyed Shim's use of bilingual interactions adding a layer to ethnic authenticity in the family dynamic, especially to the familial scenes between Oh and Lee.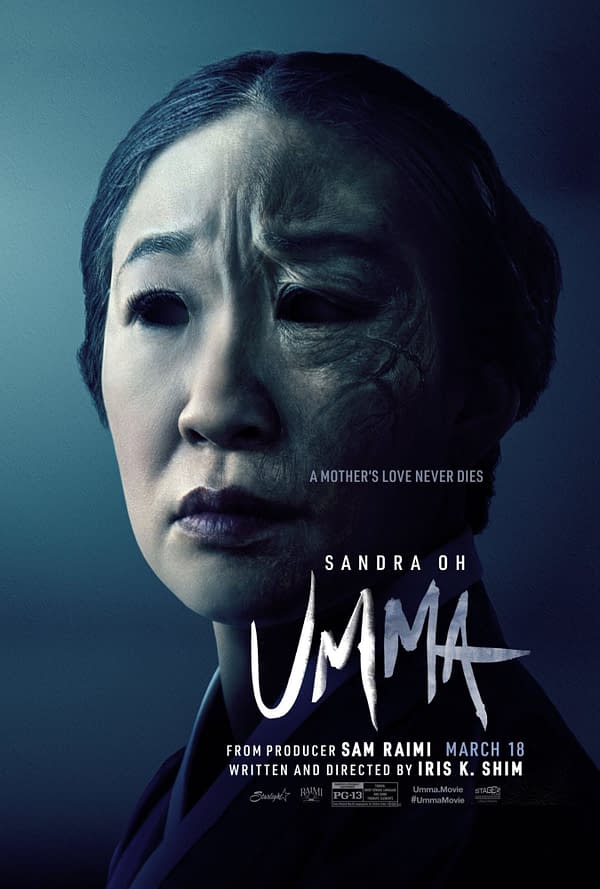 The special effects enhance the emotions on display rather than detract to the point, and Shim does a tremendous job instilling empathy in all her characters, even the cursed character played by Lee. It's a sad commentary of what's socially accepted in self-contained family units, especially if it happens to be dysfunctional. It reminded me of another of a far less gloomy film that Oh stars in Disney/Pixar's more family-friendly Turning Red, where her character in Ming is also a mother tries to shelter her daughter (Rosalie Chiang) from truly exploring herself as opposed to trying to go to college like Stewart's character in Umma. Like the Sony horror film, the animated film also shows more directly the generational guilt in the case of Turning Red, a red panda that comes out from all the females in Meilin's family in scenarios of extreme emotion as she herself is discovering as she enters puberty. Both films internalize grief and guilt, particularly among Asian women. Umma, which also stars Odeya Rush and Dermot Mulroney, is currently exclusively in theaters.
---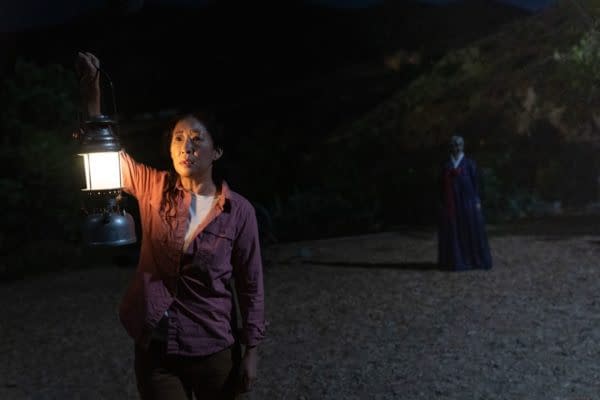 ---
From producer Sam Raimi, the supernatural thriller Umma effectively addresss the generational fears of a woman who tries to do everything to avoid being her mother. Star Sandra Oh turns in another tour-de-force performance showing us why she deserves more theatrical roles as one of Hollywood's greatest underrated treasures. Fivel Stewart provides a commendable grounded performance to complement Oh's.
Credits
---