HISTORY's Vikings just went on hiatus in the middle of season 5 (don't worry, this is their planned mid-season break), and left us all wondering, "what next?" A good drama series does this to its viewers often, and Michael Hirst is no stranger to this method.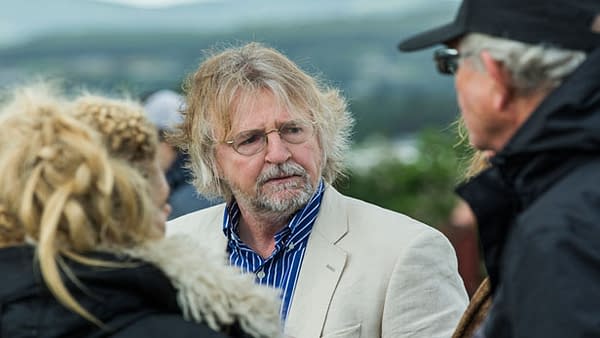 The series creator, showrunner, and head writer (no, really — he's written every single episode of the 5 seasons) Hirst has some opinions about his show. If you haven't caught up with the season, you may want to do that before reading down, as there will be spoilers.
In a recent interview with Entertainment Weekly, Michael spoke a bit about where the main characters are personally and emotionally at the mid-season break of season 5. And, specifically, why he thinks Vikings is the "grown-up version of Game of Thrones."
EW: There were interesting moments near the end of Ragnar's time on the show, when he would have visions of his past life or younger days on the farm. It felt like a lot of characters had moments like that in this episode.

Michael:  I'm warned constantly about saying this, but I do think that Vikings is a grown-up version of Game of Thrones. It actually deals really with mortality, really with the big issues. It's not an entertainment in that sense. I hope it is entertaining! But it really drills down into things that are important. This is an episode I'm terrifically proud of because so many important things happened in it, and it was very honest. And Lagertha starts to break. One of our big characters starts to break in this sequence.
Sure, a lot of HBO faithful will take issue with that statement, but in context, Hirst is mostly correct. So many of the core of the GoT characters don't deal with their personal issues until it's turned into (literally) a dragon attacking them. The Vikings characters however, MUST deal with their issues, or else their world will be taken from them by someone who has.
The interview when on to talk a bit about what Floki (Gustaf Skarsgard) has been dealing with at his colony over in Greenland:
EW: While the battle was raging among Ragnar's family, we followed some dark turns in Floki's colony. That story is separate, but it feels like it's commenting on what's happening back in Scandinavia. We left off with him offering himself as sacrifice. What can we expect to see with Floki when the show returns?

Michael: I remember talking to Gustaf over lunch one day here in Ireland. He was talking about how his character had lost everyone, lost his wife, lost his best friend. What was left for him? I said, "Well, I had a thought. Do you want to build a city on the hill?" In other words, do you want to try to build a society in a new place? Referencing the Pilgrim Fathers and all that, but that's not the only example of people who tried to set up ideal communities of perfect faith.

It's a part of the main story, a reflection of the main story. I wouldn't have even started down this line if there wasn't a payoff. The payoff is so catastrophic, so extraordinary, so terrible. I wish I could tell you! It looks bad now, it gets worse. That storyline really delivers, and says something about the human experiment.
Vikings is set to return for the back-half of season 5 sometime later in 2018. And yes, we DO get a 6th season, too.
Enjoyed this article? Share it!