What's the Story, Wishbone? A Movie Based on the TV Show Is on the Way
Universal Pictures and Mattel Films has a new reboot in the works according to Deadline, and this time it's a little different than usual. If you were a PBS watching kid from the years 1996 to 2001, you probably remember a classical literature-loving Jack Russell Terrier named Wishbone. And if not, let me introduce you to one of the best television dogs ever, Wishbone!
The original series followed a boy and his dog, whose sassy thoughts only the viewer could hear. Wishbone loved literature and always found a way to liken the real-life situations his human Joe and his friends got into with the stories and lessons of classical literature. I mean, seriously – who else would think to stage the story of Robin Hood with a medium-sized dog as the titular hero?
In an official press release Wednesday, executive producer Robbie Brenner said, "Our deep library of iconic franchises continues to offer cinematic storytelling opportunities. We're thrilled to be working with Peter Farrelly, Roy Parker, and Universal to take the beloved dog classic into a new direction with a modern reimagination of the franchise." The release also stated that "Mattel Films will be rebooting the property into a modern, four-quadrant comedy that will appeal to the whole family."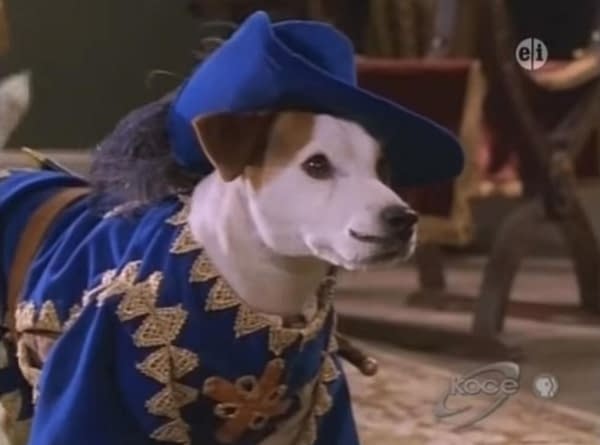 Mattel films announced eight projects in development throughout 2019; A team up with MGM for a new "multi-generational" American Girl movie and a film adaptation based on the view-master toys and a live-action Barbie film starring Margot Robbie. A live-action Hot Wheels film both at Warner Bros., a partnership with Blumhouse Productions to make a film based on the classic Magic 8 Ball "fortune telling" toy, and a new live-action Barney film was announced with Mattel working alongside 59% Productions and Valparaiso Pictures. These announcements join the news of Mattel and Netflix working on a new Masters of the Universe series as well as the Tom Hanks helmed astronaut drama based on the 1960s Major Matt Mason space toy line.
It looks to be a busy time for Mattel Films – with Wishbone joining the lineup; all nine films will make for a busy slate once production gets back into full swing.