With 'Captain Marvel', Samuel L. Jackson's Marvel Studios Contract is Up, But…
First and foremost, if you are a fan of Samuel L. Jackson, you need to read The Hollywood Reporter's most recent in-depth profile/interview. It covers everything–from Jackson's childhood, all the way up to his admission that he'd play Marvel Studios character Nick Fury into his 80's if asked.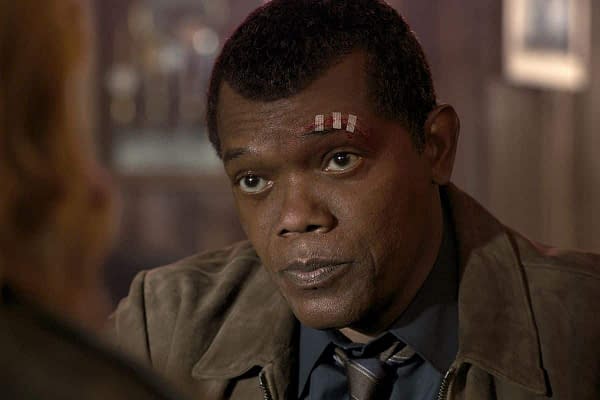 No, really, he even said: "I could be the Alec Guinness of Marvel movies," referring to the marked age difference between the Obi Wan Kenobi actor in Star Wars and the rest of the cast. We can't say we'd hate it.
If you were unaware, Jackson' s contract with Marvel Studios included 9 feature films, a number he's now reached with the competition of Spider-Man: Far From Home, due out in July.
There is no telling what the aftermath of Avengers: Endgame is going to be, who will live and who will die, but we'd totally be interested in seeing Nick Fury for another 10 years.
Captain Marvel is scheduled to hit theaters on March 8th, Avengers: Endgame opens on April 26th, and Spider-Man: Far From Home will hit on July 5th, 2019.
There is also another Jackson film poised to make an impact at theaters this year; M. Night Shyamalan's Glass, a sequel to both Unbreakable and Split, which is set to hit theaters next week on January 18th.