Apparently Resident Evil isn't the only film franchise looking to head to tv- according to a recent (fairly in-depth) interview with Starship Troopers, Starship Troopers 2: Hero of The Federation, Starship Troopers 3: Marauders, and the animated film Starship Troopers: Traitor of Mars writer Ed Neumeier, there are plans.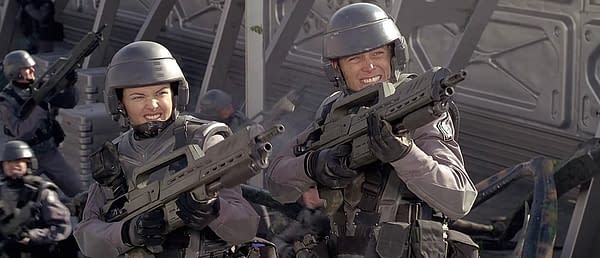 While speaking with HN Entertainment about various and sundry things, the topic of Starship Troopers reboots came up, and Neumeier revealed some things about a possible jump to television. (It's worth noting that Back in 2016, there was talk of a film reboot.)
HN Entertainment: Going back to Starship Troopers, the idea of a reboot, in this day and age where studios are now kind of going for soft-reboots, basically sequels to movies 30 years later, do you think that bringing back the old cast could work as a sequel, should they go that route?

Ed: Well, I think they can. I don't want to jinx anything, but we are talking about trying to do a television show that is based on that idea.

HN: We would assume that Johnny Rico's Casper Van Dein might be a good bet to return considering how much he enjoys working with Casper. After reflecting on the importance of Peter Weller returning to the role of RoboCop in RoboCop Returns he mirrors is own experience bringing back Rico multiple times.

Ed: I've written all sorts of things with Casper now as Johnny Rico and it's a gas to write him because he gives you that character, he gives you more than you think, as soon as he shows up, the tone comes with him a little bit. I think it's because he's ridiculously handsome, he's got this boyish can-do attitude, which is what Johnny Rico is, and a lot of the brand comes with him. It's been to easy to dismiss these things in the past.

Sometimes you can reboot something, but sometimes it just doesn't feel right.

I have mixed feelings about it [the reboot] because I think that what we did with the first Starship is almost not repeatable in a way…I based the structure of Starship Troopers when I was writing it, the structure of WWII propaganda films that the studios made between 1941 and 1944. We don't really talk about those movies anymore, but that had a very particular structure and they were made during a conflict and they didn't have an end-point as with Starship ends they'll keep fighting.

I can imagine you could do a new one that was a more serious version of the book without the political commentary, but I don't know if that interests me that much. The spectacle of the giant creatures and the ridiculous bloodshed, all that stuff, I don't know if in this world of CG where you can do all that stuff pretty easily seeing a bunch of creatures fighting might not interesting enough right now, for me. But other people might like it.

I'm not sure, their idea is as I understood at a certain point was they said to kind of do An Officer and The Gentleman, Johnny Rico as the Officer and The Gentlemen version of a sci-fi movie. So, maybe you could do that a romantic picture about kids coming up together in the service and one of them becoming an officer and all of that means, you know. It's really not what Heinlein's about, but that's okay I can imagine you could do that. I'm not sure who goes to see that movie though."
There hasn't been much in the way of information or movement on the possible reboot of the series, but we'll let you know if we hear anything else about it.
Enjoyed this article? Share it!