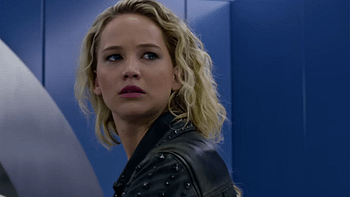 Jennifer Lawrence, star of the current but soon-due-for-a-reboot X-Men franchise and Hunger Games movies, published an editorial on Broadly today addressing the recent U.S. presidential election. Titled "Don't Be Afraid, Be Loud," Lawrence's editorial expresses shock at Donald Trump's win, and examines what the election will mean for her.
"Is this the stark reality?" Lawrence asked in the essay. "It doesn't matter how hard you work or how qualified you are, at the end of the day, you're not a man?"
Lawrence has advice for people disheartened by the results. She wants them to keep fighting.
We're all allowed to be sad that the present isn't what we thought it was. But we mustn't be defeated. We will keep educating ourselves and working twice as hard as the man next to us because we know now that it is not fair.
Lawrence isn't the only Hollywood star to speak out against President Elect Donald Trump. A report from sandwich-themed Hollywood gossip blog The Wrap called Hollywood "paralyzed" by the results, and celebrities including Miley Cyrus, Lena Dunham, Bryan Cranston, Samuel L. Jackson, and Amy Schumer have all threatened to leave the country in the wake of Trump's win. Lawrence, however, takes a different approach:
Do not let this defeat you—let this enrage you! Let it motivate you! Let this be the fire you didn't have before. If you are an immigrant, if you are a person of color, if you are LGBTQ+, if you are a woman—don't be afraid, be loud!
Enjoyed this article? Share it!