The Year of Spectacular Men is a good ol' fashioned family affair. The film is the feature writing (and composing) debut of Madelyn Deutch (50 to 1) and stars her sister, Zoey Deutch (Everybody Wants Some!!, Set It Up), AND it's directed by none other than their mother Lea Thompson (Back to the Future, Howard the Duck), who ALSO stars!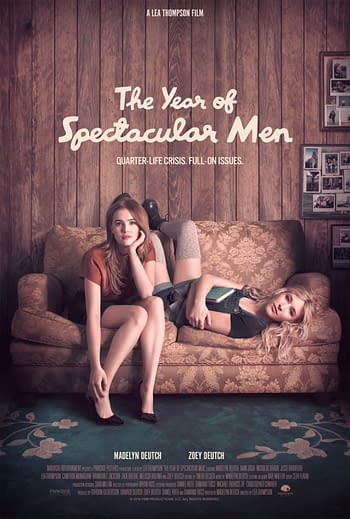 More about the film: Madelyn stars as the smart but rudderless 20-something Izzy Klein, who has just graduated college and suddenly finds herself without a boyfriend or an apartment in NYC. But, with the help of her movie star little sister Sabrina (played her real-life sister, co-star, and co-producer Zoey Deutch) and their newly new-age — and newly same-sex coupled — mom, played by the actresses' real mom Lea Thompson (who also makes her feature film directorial debut), Izzy makes her way through a year of rough dates and tougher family secrets to come out on the other side and on the path to finding herself.
The film, while uneven, greatly benefits from the existing rapport between the three women. The best moments are the ones you can tell were inspired by their actual family dynamic.
There are also fights with significant others that feel like they capture the essence of real relationships, though it was painful to watch at points. There are multiple sex scenes starring Madelyn (though no nudity), and all I could think was… "Her mom is directing this?!"
At points it can be frustrating and cringe worthy to watch Izzy make mistake after mistake with the men in her life, but I suppose that's the whole premise. It's not bad for a first-time feature writer/composer and a first-time feature director.
The Year of Spectacular Men is out now in select theaters and OnDemand.
Enjoyed this article? Share it!