Zachary Quinto Talks Star Trek 4 and the Cast Would Return
When J.J. Abrams and his writers brought Star Trek to the big screen in 2009 the world was a bit of a different place. The Marvel Cinematic Universe was just kicking off, we were a few years away from the DC universe getting their own franchise off of the ground, Disney hadn't bought Star Wars from George Lucas yet, and while The Dark Knight changed the dynamic all of Hollywood hadn't been taken over by nerds quite yet. This movie being a huge hit was one of the game changers, along with Iron Man and The Dark Knight, that maybe these things that were considered niche fandoms for so many years could reach a bigger audience. The second movie, however, was as well-received as the first movie and for some, they thought the big-screen adaptations of Star Trek were over. Then Star Trek Beyond came out four years ago and while it was the best of the new movies so far it did not do well at the box office. It wasn't a bomb but it didn't do great either and with the untimely death of Anton Yelchin following the movie and the cast it was hard for all involved. There have been attempts to get a fourth movie off of the ground and they even announced a director with S.J. Clarkson but something happened and Star Trek 4 just didn't happen. They announced a movie again this time with Noah Hawley in the directors chair but now people are wonders if the original cast is set to return. Zachary Quinto spoke to ComicBook.com and was asked about the movie and if he thinks Star Trek has a place on the big screen.
"It's already thriving in the television format with Discovery and Picard and the spinoffs," Quinto said. "I can't even keep track of how many new Star Trek stories are being told since our last film in 2016. All I know is that we, all of us, had an incredible experience making those films. If there is an appetite for more of those stories with us in them, I'm sure that we would all be thrilled to come back and do one more or whatever, but I'm not really attached to it anymore."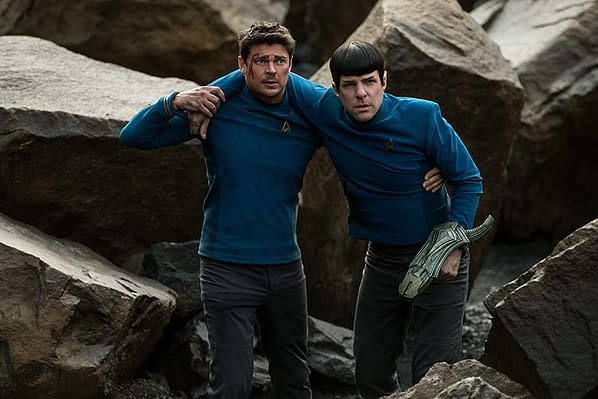 Quinto went on to say that while he is thankful for the opportunity and would return he isn't exactly hopeful that the cast will come together again for Star Trek 4 but that it would be "incredible" to do another movie with the people he has made "lifelong friends" with.
"I stepped away from any expectation or any real certainty that it's ever going to happen again," he continued. "I think that's the only real way to move through the world, right? If it happens, that'd be great, but I'm not going to sit around waiting for it to happen. I have a ton of other stuff in my life, in my career. I have lifelong friendships from those films and working relationships and a lot of respect and fond memories, so if that's what it ends up being and I can look back on my life and say that's what it was, then that's incredible, and if we get to do more, that's also incredible. But as far as the stories go, they've been around for decades and generations, and I think that that will continue, whether or not we continue on with them."
Star Trek is doing well on the small screen but as the TV shows continue to do well it is more proof that the brand is still valuable. Perhaps they could make a Star Trek movie with a decent budget so they wouldn't have to make half a billion dollars to break even. The thing that people care about are the characters and maybe a more low key adventure would be the way to go next.