Zack Snyder has just laid the smackdown on all the haters and doubters who have tried to claim the Snyder Cut of Justice League is a myth. Snyder took to Zack-Snyder-themed social media service Vero to post a photograph of the actual film canisters containing the Snyder Cut which are currently locked in a Warner Bros vault. A caption overlaid on top of the photo reads: "Is it real? Does it exist? Of course it does."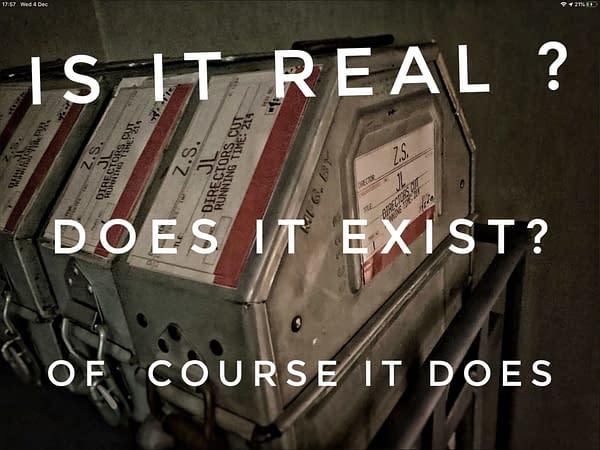 The Snyder Cut of Justice League is a version of the 2017 film which restores Snyder's original Vision, as it existed before Snyder was forced to leave the production before it was completed due to a personal tragedy. Warner Bros brought in alleged fake feminist Joss Whedon to finish the job, promising to stay true to Zack Snyder's Vision for the film. However, Whedon replaced all of Snyder's badass Superman scenes and replaced them with scenes where Cyborg says "booyah." As a result, Justice League bombed at the box office, causing then DC Films president Jon Berg to pay the ultimate price, and eventually leading to DC rebranding the DC Extended Universe as Worlds of DC and severing all ties to Snyder's larger grim and gritty vision of a DC Universe where "you're living in a f**king dream world" if you don't think superheroes kill.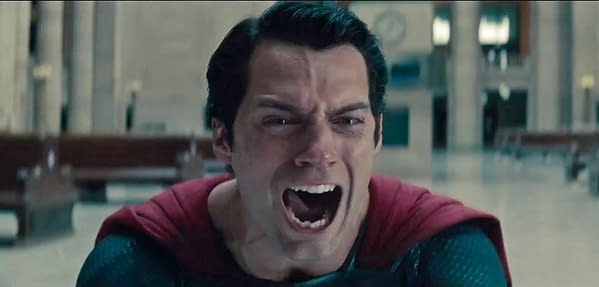 But one group of headstrong and motivated hardcore fans of Zack Snyder's Vision, dubbing themselves The Snyderbronies, refused to accept that the theatrical version of Justice League is the only one viewers deserve. These Snyderbronies took to social media, billboards, and the streets of Burbank to demand that Warner Bros release the Snyder Cut, and they haven't stopped after years, showing a fervor and devotion never before seen in the world of cinematic fandom. Some of the world's most powerful people have joined the ranks of the Snyderbronies, including politicians like DC-loving Long Beach Mayor Robert Garcia, superstar comic book artists and blue jean models like Rob Liefeld, and hunky movie stars like Jason Momoa.
Snyder has insisted all along that the Snyder Cut of Justice League exists, even hinting that it was in fact 214 minutes long, as the photo Snyder posted corroborates, and others like Momoa have also claimed to have watched the cut. With this photographic evidence out there, Warner Bros is left with no further excuses and must release the Snyder Cut immediately so that fans can enjoy the movie as it was originally intended. Even Rob Liefeld agrees!
Yes, that's a 3 hour Justice League film shot by @ZackSnyder Can you just #ReleaseTheSnyderCut already? @hbomax pic.twitter.com/sORhudJWUq

— robliefeld (@robertliefeld) December 4, 2019
So the ball is in your court, Warner Bros. Release the Snyder Cut, or face the righteous wrath of the Snyderbronies!
Enjoyed this article? Share it!