Zoe Saldana Proud to have James Gunn Back for 'Guardians of the Galaxy Vol 3'
Once again, we couldn't be more pleased that Disney has reinstated Guardians of the Galaxy writer/director James Gunn, and that his Guardians Vol 3 will be happening.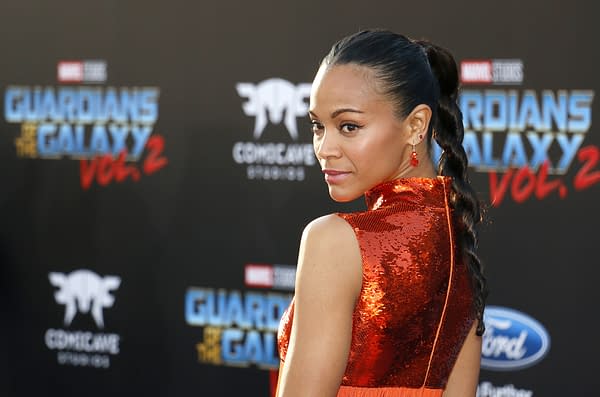 Zoe Saldana, who plays the most dangerous woman in the galaxy, is also quite pleased to have Gunn back behind the wheel of the franchise, and is proud of both Disney and Gunn himself.
"I'm proud of him. I'm happy that he's coming back. I'm so proud of Disney, actually, that all the leaders right now behind that big corporation decided to lead by example, and spreading the word and the message of redemption is important."
You may recall the messy business of some of Gunn's more….colorful….past tweets resurfacing, prompting The House of Mouse to opt to fire the filmmaker. There was a strong show of support from the cast, most vowing to not work on a Guardians film without Gunn. Thankfully, Disney chose instead to bring Gunn back into the Marvel Cinematic Universe fold, to complete his space-misfits trilogy.
Avatar star Saldana also spoke to Entertainment Tonight about another Marvel Studios project-Captain Marvel.
"I loved it so much. I'm so proud of her, I'm so proud of Marvel Studios. I'm also so happy that the public received it and they really supported it, because that was the main part of this whole equation. We need to go and support these movies with female leads in order for our corporations to understand that there is business in investing in female narratives.

It's better representative of what America is today. It's no longer that shift of, 'Oh, can you allow this to happen?' It's more like you have to do it because if you don't you're neglecting 49 percent of your audience."
Needless to say, we can't wait to see what Guardians of the Galaxy Vol 3 has in store.
You can see Saldana next in Laika Studios' Missing Link, which opens in theaters on April 12th 2019.