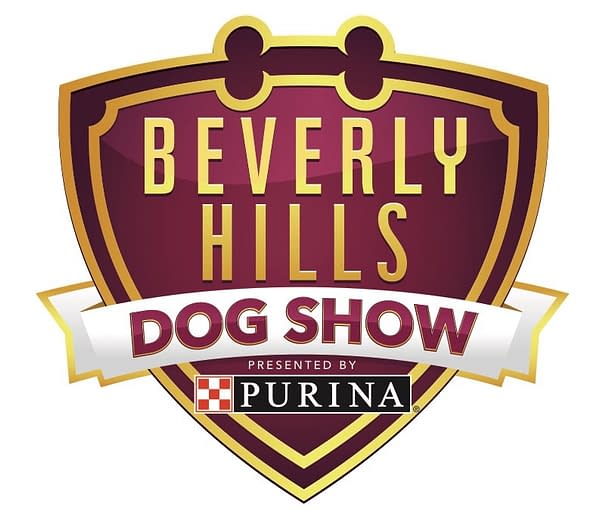 The Kennel Club of Beverly Hills and USA Network are un-leash-ing (you're welcome) their second-annual broadcast of the Beverly Hills Dog Show Presented by Purina on Sunday night, and Bleeding Cool is here for the full two hours with Beverly Hills K-90210: Bleeding Cool's 2018 Beverly Hills Dog Show Live-Blog!, starting at 6 p.m. ET/5 p.m. CT on Bleeding Cool's website.

Created by NBC Sports Group, the Kennel Club of Beverly Hills and Purina, the competition includes over 1,200 dogs representing 175 eligible breeds and varieties; and includes special behind-the-scenes features on the competitors, as well as traditional judging of breeds and groups. The evening culminates a "Best in Show" ceremony that includes the seven "Best in Show" finalists presented in a fashion-show-style runway for judging. Here's a look back at the full "Best in Show" round from the 2017 Beverly Hills Dog Show Presented by Purina:
So who's guiding us down this gauntlet of canine competition? Here's a look at this year's commentators/hosts: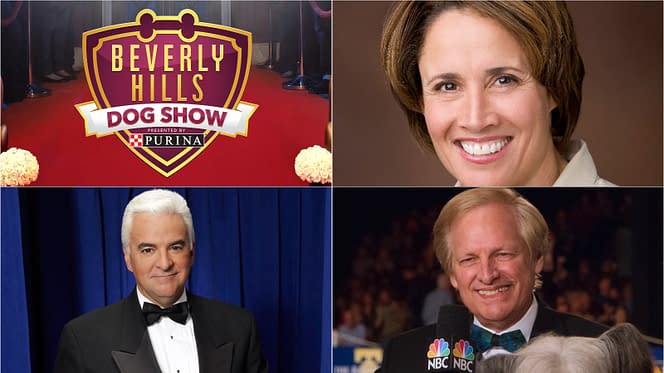 ● John O'Hurley (bottom left) has become one of the entertainment industry's most versatile players, Award-winning actor, show host, advertising spokesperson, feature film star and one of People Magazine's "Sexiest Men Alive." He has served as host of The National Dog Show presented by Purina on NBC since its inception in 2002.
● David Frei (bottom right) is a natural choice to serve as expert analyst since he is one of the most authoritative voices in the dog show world. An AKC-licensed judge who has officiated at dog shows all over the world, Frei has hosted USA Network's coverage of The Westminster Kennel Club Dog Show from Madison Square Garden since 1990. He has co-hosted The National Dog Show presented by Purina since its inception in 2002 and along with O'Hurley has become a Thanksgiving Day fixture in American homes since the show follows the Macy's Thanksgiving Day Parade.
● A longtime dog owner and lover of man's best friend, Mary Carillo (top right) brings a wealth of experience to the National Dog Show commentary team as a new addition for 2010. Best known for her work as a host and correspondent for NBC's coverage of The Olympic Games this past decade, she also serves as an analyst on NBC and ESPN tennis events and as a correspondent for HBO's Real Sports. Her credentials for coverage of a major event like The National Dog Show comes from her work on USA Network's six-hour presentation of The Westminster Kennel Club Dog Show.
Bleeding Cool knows you know that you're your dog's one-in-a-million, so why not tell the world — and help others while you're at it?
Between now and 11:59 p.m. PT (2:59 a.m. ET) on April 8th, 2018, post your pet's picture on Twitter, Instagram or Facebook with #BHDogShow and @Purina. For every tagged, unique post, Nestlé Purina PetCare Company will donate $5 to Mutt-i-grees; up to a maximum donation of $25,000.
Mutt-i-grees is an innovative pre-K to Grade 12 program that builds on children's affinity for animals; teaching social and emotional skills as a way of bridging humane education. For more information on Mutt-i-grees, visit their website at: http://education.muttigrees.org/.
Enjoyed this article? Share it!