Did AMC Renew 'Preacher' For Season 3 And We Missed It? Did AMC renew Preacher for a third season without any of us realizing it? If the filings with Louisiana's film office are correct (and there's no reason to think that they wouldn't be), then Preacher is definitely coming back for a third go-around…and for a longer stay in "The Big Easy." In fact, Preacher wouldn't just be coming back for a Season 3…it would be starting production soon. Really soon.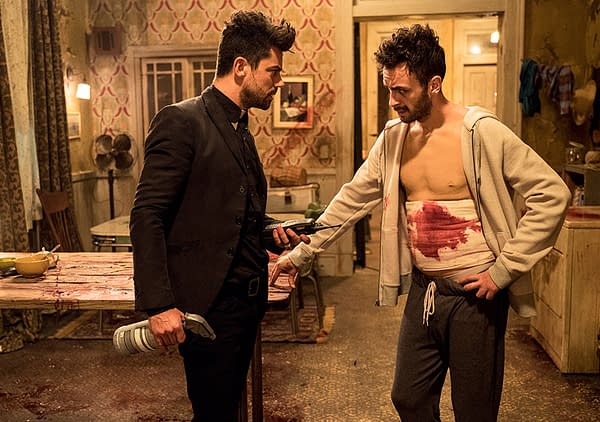 But first, a little backstory that led me to writing this. A friend of mine asked me yesterday if I knew anything about AMC renewing Preacher since she knew that I did the episode recaps for Bleeding Cool. I told her I hadn't heard anything, but she was certain she'd "read something" about it so I figured I'd see what I could dig-up. Except this time, I took a page from Rich Johnston and started doing my research at the source instead of starting with other news sources. With all due respect to Variety or Deadline Hollywood, I've learned through experience that sometimes the best information comes from sources most people would never suspect. In this case, it was the online edition of New Orleans' The Times-Picayune that first posted about the renewal possibility…in July 2017.
But back to the point of this story…here's what we've learned from AMC's filed paperwork:
● Pre-production on Season 3 would start in early November, with principal photography scheduled to begin on January 5, 2018.
● The production timeline listed is similar to the one submitted for Season 2, which would suggest a summer 2018 run for Season 3.
● Season 3 has an estimated budget of $70 million, up slightly from Season 2's estimated $67 million budget. An estimated $50 million Season 3's budget would be spent in Louisiana, with $19 million of that set aside specifically for in-state payroll.
Now just to be clear…paperwork isn't a 100% guarantee because paperwork can always be pulled back so take the news with a grain of salt.
But until AMC, Seth Rogen or God himself/herself/itself/themselves tell us otherwise?
The power of Humperdoo compels us to get excited for more Preacher!
https://www.youtube.com/watch?v=z8t4rBpylJc

'Preacher' Episode 12 Preview: 'Oh Please. You're Like…Third In Charge'